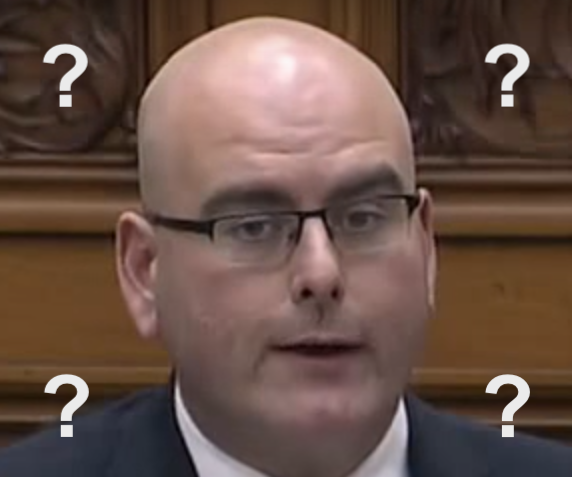 Steven Del Duca is the Ontario Liberal Party's new leader and candidate for Premier. So just who is Steven Del Duca? No seriously, I'm honestly asking. Which one is he again?
His first name and ovular head seem to ring a bell. Oh that's it. Steven Del Duca is a Toronto lawyer and broadcaster, who many Ontarians will recognize from his frequent appearances as a political commentator on CP24. Known for his trademark bow tie and… shit. You know what? I'm thinking of Stephen Le Drew, not Steven Del Duca. Never mind.
Steven Del Duca is a… I'm going to go out on a limb here and say… lawyer? Chances are he's a lawyer. He's definitely a former MPP who represented a riding at some point in time, probably somewhere in Toronto but maybe not right downtown. At some point he was most likely a minister of something sort of important but not so important he'd be in the news a lot, because honestly I'm looking at this guy's face and I'm drawing a total blank.
Did the Liberals parachute this guy in from the US like Ignatieff? I just feel like if I ever saw him before I'd remember. Do we know for sure that he exists? I've seen photos but has anyone ever seen him in person? Are we sure he's not a deepfake? Are we 100% certain that he's not just Dalton McGuinty with a shaved head? Can anyone confirm if they've ever seen Steven Del Duca and Dalton McGuinty in the same room at the same time?
In conclusion, perhaps Steven Del Duca is real. Or perhaps he is not. Perhaps Steven Del Duca is not a man, but an idea. Not just one idea, but a whole collection of bold ideas on how to drive Ontario forward. Ideas like paying less money for the bus for a few years and…you know what I'm drawing a blank on those too.
Whatever his ideas are, his youth and energy will be much needed to tackle the problems facing the province and damn it, I'm thinking of Stephen Lecce, the 35-year-old Conservative Minister of Education. Totally different guy. Totally different party. My bad, I thought I had it.