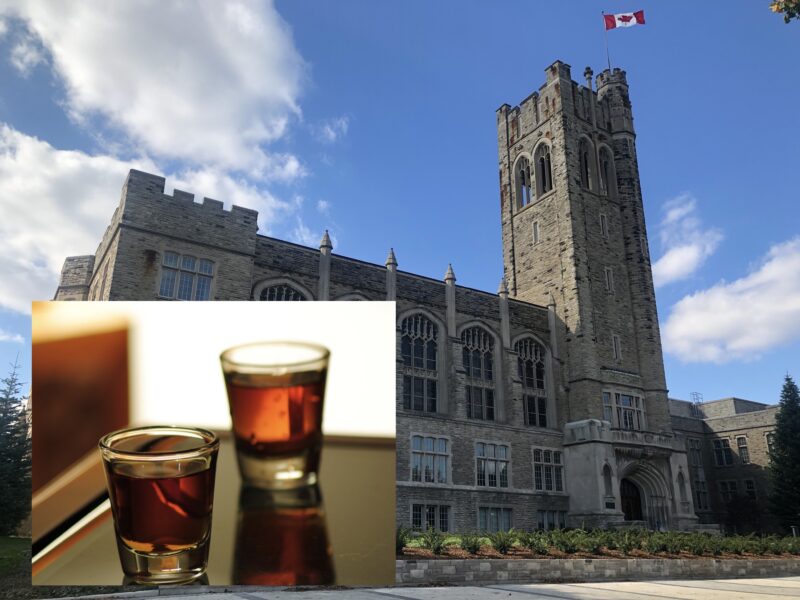 LONDON, ON – In an effort to protect students and faculty against COVID-19 and being a buzzkill, Western University announced that everyone entering the campus must have had at least 3 shots of COVID vaccination and no less than 15 shots of Jagermeister.
"At Western University, we are dedicated to providing a safe environment for students to study and party, sometimes in that order. With that in mind, we are asking everyone planning to visit our grounds to provide proof of vaccination and intoxication, in the interest of public safety and fun," said Western University president Alan Sheppard.
"If you can pass a rapid test while failing a breathalyzer test, you're good to go!"
"Our research has shown there's no risk to taking alcohol right after getting the COVID vaccine, especially since the freshman shouldn't have to worry about any alcoholism-related risks yet," says Dr. Laura Stevens, a faculty member manning one of the university's vaccination/pre-drinking clinics. "It's amazing how many volunteer applications we've had for this initiative. I guess some of them are hoping to take home some of the leftover Moderna when we're done."
Other methods the university is planning to use to ensure campus COVID safety/intoxication is by checking the temperature of campus visitors while they do a kegstand, putting arrows on the grounds to help social distance while lining up outside the pub, and requiring anyone going into class to have adequate PPE (Piña-Colada Portioning Equipment).
As expected, the mandate has led to no shortage of protests and criticisms. Second-year "student" and suspected 45-year-old Scott Crowne believes that the university has no right to require him to drink Jaegermeister. "It should be my choice of what to put in my body. Don't they know that drinking that stuff can turn you into a financial math major?"
"They can't fool me, I'm an informed citizen! I heard on a podcast that three bottles of Fernet Branca are just as good as Jaegermeister. Someone should tell these so-called educated liberals that forcing people to drink is bad for them. They need to build their resistance the natural way; shotgunning an entire bottle of Listerine and then passing out in a field."
In addition to the new mandate, the University is extending Frosh Week by another 5 days to allow students a chance to recover from the massive headaches they are expected to receive.
In other Western University news, the Ivey business school has reduced its admission requirements to just one bump of cocaine done in the last five years.