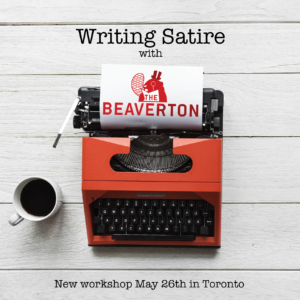 The Beaverton offers a series of Satire and Comedy Courses. Are you interested in The Beaverton hosting a workshop or event for your organization? Email staff@thebeaverton.com
INTRODUCTION TO SATIRE WRITING:
Want to write satire like the brilliant minds behind The Beaverton?* Learn the essentials of satirical news in this interactive workshop. The editors of The Beaverton will teach you how to create great headlines that grab readers' attention, as well as hilarious articles that expand and heighten your headline. Attendees will work with instructors to get hands on experience at each element of satire writing.
* We can also teach you how to write descriptions about yourself in the third person.
Next Workshops:
WRITING SATIRE FOR THE INTERNET AND TV:
Want a career writing jokes about our screwed up world? We've partnered with Toronto's legendary Comedy Bar to offer a 6-week class where we'll cover all forms of professional satire writing. That includes satirical news in the style of The Onion and The Beaverton, short form essays a la McSweeneys and Shouts & Murmurs, late night monologues, and satirical sketch comedy. We'll discuss how to use these formats to amplify your voice and point of view, as well as how to navigate the industry side of it all. Students will actively participate in each element of satire writing, receive feedback from their acclaimed instructors and leave with a complete writers package ready to submit anywhere.
We will schedule this class once in person workshops can happen again.