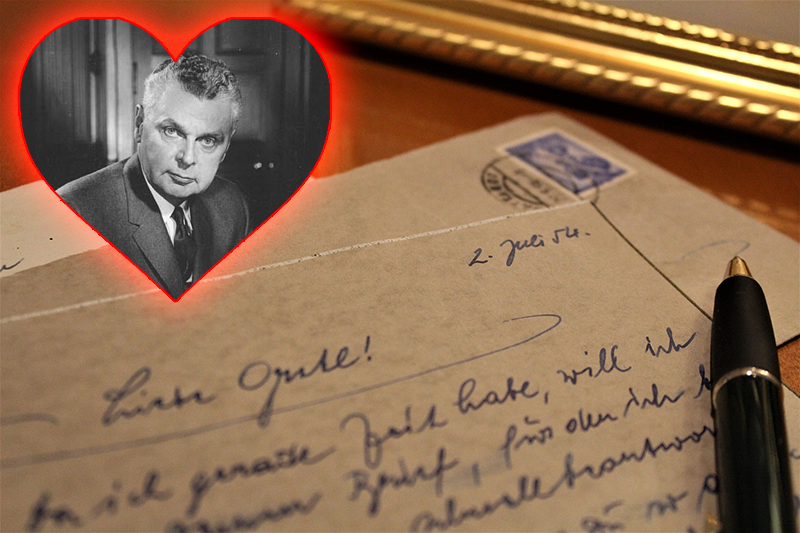 PRINCE ALBERT – According to local historians, 98-year-old Dorothy Lamb exchanged letters with Prime Minister Diefenbaker they describe as "thoughtful," "nuanced," and "almost impossibly horny." 
"We were helping grandma move into a new nursing home, and we came across this old box buried at the back of her closet," said Lindsay Cohn, one of Dorothy's seven grandchildren. "I opened it expecting to find jewelry, but instead it was overflowing with letters. Dozens of historic, suspiciously stained letters." 
Lamb, who wrote Diefenbaker on a lark after he became her member of parliament, turned into a lifelong pen pal after the future prime minister was impressed by the breadth of her political knowledge. The two discussed contemporary issues, fine arts, and their inexhaustible appetite for each other's sweaty, heaving bodies. 
"Look, grandma encouraged Diefenbaker to put the first woman in cabinet, and when he took power he did just that," Cohn said. "And then he sent grandma an eight and a half page letter about cunnilingus."
"I'm going to screw you like I screwed Pearson in '58" opens a typical letter, which came in response to a saucy photo Lamb sent Diefenbaker of her bare elbows. Diefenbaker, who refers to his penis as the "Dief Beef" throughout the missive, details an elaborate and exhausting sexual agenda before veering into a new law he'd been pondering. 
"Your proposed law needs a succinct but catchy name," Lamb replied. "How about the Canadian Bill of Rights?"
Lamb also helped Diefenbaker carve out a Cold War role for Canada. "While I believe that Canada can best contribute culturally, we mustn't forget our military obligations. Unfortunately for the latter, you cancelled the Avro Arrow, so I'm going to have to give you a Mach speed ride instead." 
"John was a wonderful correspondent," Lamb said in a brief comment to reporters. "But he never forgave me for voting CCF in 1962, so that was that."   
A further investigation revealed that Lamb also exchanged letters with Prime Minister Louis St. Laurent, who wrote about his "Trans-Canada Fuckway."