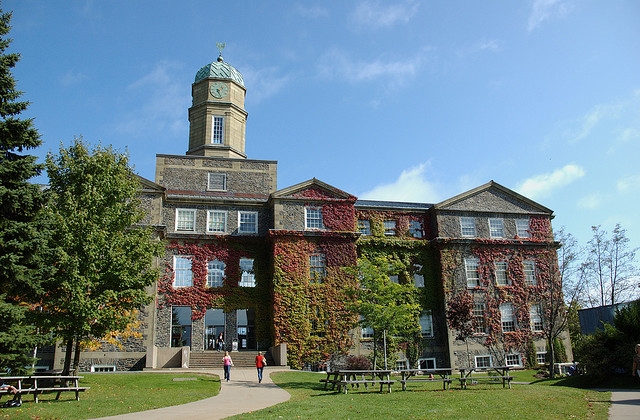 Name: Dalhousie
Nickname: Smug and moist
Motto: "Where Ontario comes to party"
History: 
Founded in 1818, by George Ramsay, 9th Earl of Dalhousie, Dalhousie University didn't hold its first course until 1838, because of 'funding difficulties'.
At least that's what they want you to believe.
Think for a moment.
Dalhousie. Founded in 1818. First class, not until 1838. George Ramsay, 9th Earl of Dalhousie, was a freemason, who "died" in 1838. Not just any freemason either: between 1767 and 1769 he was the Grandmaster of Scotland.
Now listen. Listen to me. Are you listening to me right now? Look behind me. Do you see that corkboard covered with news clippings filled with highlighted words and circled faces connected by strands of red yarn? Do you see it? IGNORE IT! DON'T LOOK AT IT, LOOK AT ME, AND LISTEN TO WHAT THEY DON'T WANT ME TO TELL YOU.
1818. 1 plus 8 equals 9. 9th Earl of Dalhousie. "Dalhousie" has 9 letters. God, isn't it obvious to you yet?
Okay, fine then, ask yourself this question: qui bono?
Oh, I don't know, maybe a certain mister Alexander Keith, another freemason, who had the 'bright' 'idea' to 'start' a 'brewery' in a 'university town'? And is it a coincidence that 'brewery' is a word with nine letters, if you add the letters "P" and "S", which stand for PHILOSOPHER'S STONE? That's right, the 'mythological' stone that can make any man, or should I say freemason, immortal?
Yeah. How about that. Starting to piece things together in that tiny mind of yours yet, you monkey-brain?
And why, if I'm so crazy, was that first course at Dalhousie taught by a certain Professor H. Henry Ghostfreemason?
What do you mean I need more evidence? We travelled all the way to Dalhousie just to get this much. We'd be blowing the lid off this thing right now if that university historian, Dr. G.R. Earlofdalhousie hadn't refused to let us into the archives.
In 2014, the Dalhousie Men's Rugby team was suspended after a hazing incident in which young members of the team were forced to run up and down a field tackling one another.
Pros:
–  Ugliest library in Atlantic Canada means that other libraries won't think you're cheating on them.
– Political Science program boasts highest number of Huffington Post readers in Atlantic Canada.
– Secondary campus is just outside of Truro, a must-visit destination for Dutch Elm Disease fanatics.
– Meal plan includes such maritime favourites as lobster bisque, lobster bread, and lobsterpops
Cons:
– Lobster actually pretty revolting when you think about it or look at it or smell it or taste it or listen to it beg for its horrible lobster life. (The answer is no, lobster.)
– Diploma will have grease stains because it comes wrapped around a donair
– Morse code a compulsory course ever since Halifax explosion
– Students forced to learn all 137 verses of Barrett's Privateers before graduation
– King's College students think they're better than you because they know more about Critical Theory and Bongo Drums.
Did you know?
…In 1879, Dal nearly went bankrupt after it accidentally opened a university in Atlantic Canada in the 1800s?
…That the school mascot, the highly endangered Bengal Tiger, is an animal that would die almost immediately in the cold, damp climate of Halifax, and that this is why the school is constantly importing fresh tigers?
…That you can get the genitals of the old, discarded tigers if you make friends with Sal the janitor, and that these are a great conversation-piece for any dorm room?
…The school's latin motto, Ora et Labora, means 'pray and work', which are the two most common activities in university?
…The Dalhousie crest contains both a dragon and a phoenix? This is to honour the former Principal Neil Phoenix-Dragon, who was known for being both a dragon and a phoenix.
Famous Alumni:
Brian Mulroney, flunked out after one year of Law School, although chin went on to complete degree.
Lucy Maud Montgomery, author of Anne of Green Gables, Anne of Green Gables 2: Horror at Passchendaele, Anne of Green Gables 3: Rise of Hitler
Shaun Majumder, comedian famous for his roles in This Hour has 22 Minutes, Harold & Kumar Go To White Castle, and the movie adaptation of Anne of Green Gables 4: Anne Dies of Old Age During the Nuclear Era, Embittered By a Half-Century of Atrocities