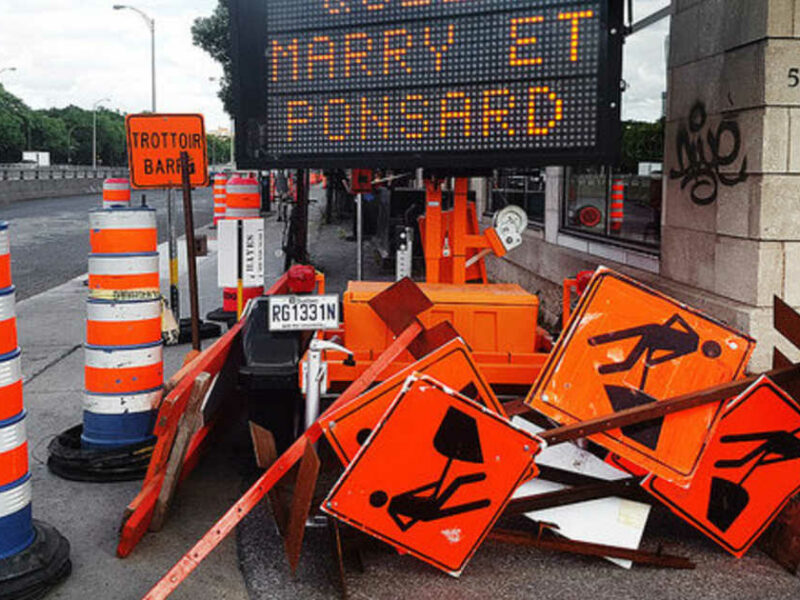 MONTREAL – The City of Montreal has decided to halt all road construction due to COVID-19 making it impossible for commuters to enjoy traffic delays as they usually do.
"One of the pinnacles of Montreal living is constant, migraine-inducing traffic," said Mayor Valerie Plante. "To continue construction under present circumstances would be a terrible waste and so the city has decided to halt all construction until we can all enjoy it once more."
"But don't worry, as soon as we are all allowed back outside again, that is when we will shut down 3-4 of the city's major streets for an indeterminate amount of time," she added.
The ban on construction was inspired by an online petition created by many construction workers who were deeply concerned about how much getting construction completed while everyone was off the roads would be a missed opportunity.
"The best part of everyone's day is seeing me," said John Frank, the guy who holds the stop sign. "I walk in the middle of the Turcot interchange, I show them the sign, they honk, I laugh, they scream, we all have such a good time! I truly think it would be awful for any of my car-bound friends to miss a moment of that back and forth."
The city is also reassuring residents that, once quarantine is lifted, potholes will be just as large and just as many of the sidewalks will be flooded by water main breaks.
In order to ease civilians into a life without traffic, the government is offering a service where construction workers will come to your home, remodel your kitchen to look the same 7 times, and make it difficult to get around the house.
"I can't sleep without the sound of a jackhammer in the background," said Mary Smith. "But thanks to Larry and the boys coming over every day at 11 pm to work loud and scream obscenities at each other, now I sleep like a baby."
In related news the lack of construction work has caused the mob to report a 200 million dollar loss for the first quarter.