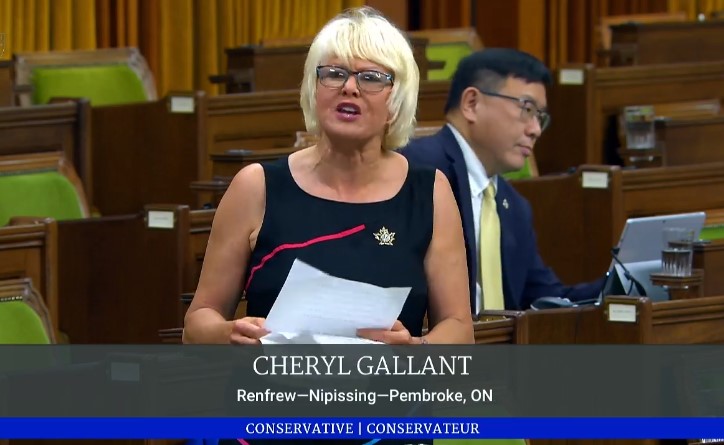 OTTAWA – Conservative MP Cheryl Gallant said today that her recent claim about Liberals being part of a global pedophilia ring that uses their blood as soap was a "simple misunderstanding."
"Classic mainstream media, twisting my words again," said Gallant. "If you had seen my full quote about the Liberal Party of Canada being part of Bill Gates' international conspiracy to use COVID vaccinations to drug our children in order to make it easier to sexually abuse them, you would know there was nothing controversial about it."
"They didn't even mention the part where I said that Justin Trudeau was arrested three years ago and replaced with an imposter," she added.
Many Conservative MPs are growing concerned about media bias in Canada, as evidenced by journalists' refusal to hold the Trudeau government's feet to the fire on issues like the WE Charity Scandal or why they allowed George Soros, Hillary Clinton and the Rothschilds to turn the Diefenbunker into a sex dungeon for wealthy Hollywood pedophiles to use at their convenience.
"When I was a kid so-called reputable newspapers like the Globe or The Star used to consider both sides of issues like tax increases or whether Chrystia Freeland is a Ukranian spy sent by Henry Kissinger to devalue our currency," said Gallant.
Gallant advised she would not comment further and referred all further questions to her press secretary, the message board of 8kun.
Party Leader Erin O'Toole had no comment on Gallant's position, probably because THEY had gotten to him.