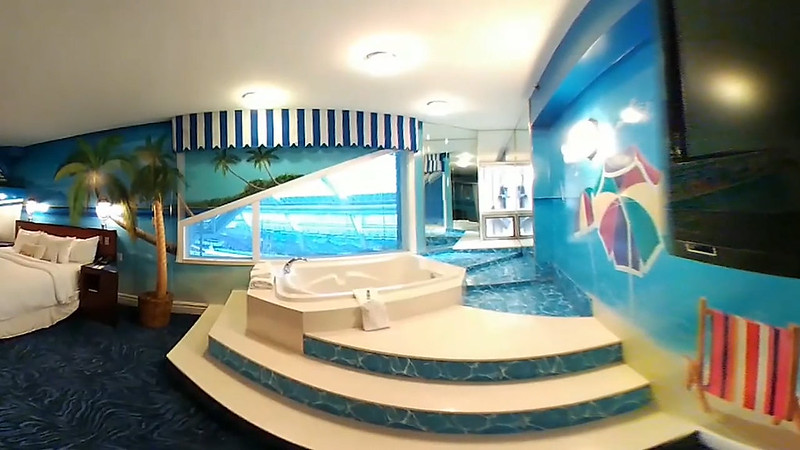 Need yet another reason to postpone travel during this once-in-a-century global pandemic? This quarantine hotel has you covered – by mandating themed rooms for all international arrivals!
The welcoming team at the Hilton-Marriott Airport Gate Holiday Inn Express at Toronto's Pearson Airport has partnered with the Federal government to ensure all returning vacationers enjoy a room ironically befitting their high-risk vacation – talk about a monkey's paw win!
"What's worse than a theme room? Being FORCED to stay in a theme room!" General Manager Thom Jennings said. "This is the worst thing to come out of COVID culture since that one guy who told you to bleach your groceries – we guarantee it."
So what kind of rooms can you expect to stay in when you return to Canada possibly incubating the world's next great COVID variant?
Beach vacationers will transition back into responsible reality with one of the hotel's seaside themed rooms! Just like the small, grey beaches and the $24 piña coladas you risked COVID exposure to experience, the room is kept at a temperate 82 degrees at all times, without exception. Enjoy the squish of an always-wet carpet scattered with just enough sand to get everywhere. And what's that you hear? It's an ocean wave noisemaker! Wait, is that screaming? Is… is someone drowning in the distance? You'll never be sure, and there are no lifeguards around to help!
Ever been to a Japanese love hotel? How about a bad parody of a Japanese love hotel? Spend your quarantine under a funhouse-mirrored ceiling enjoying full use of a karaoke machine that never turns off – all with the silent, unblinking company of a closet full of realistic sex dolls. The bathroom is the exact same size as the tiny plane seat you just sat in for 24 straight hours – don't worry, we measured! Is the vibe in here culturally insensitive? Maybe! But that minimum-wage concierge you coughed on has watched Naruto, and he says it's fine!
Coming back from a stay at the happiest plague vector on earth? Enjoy several mandatory nights in a room that had reviewers on TripAdvisor saying "Wow, I think Cinderella died in here!" Take in the glow-in-the-dark castle mural as you rest your weary feet on a glittery trundle bed covered in child stains. The minifridge is stocked with all the candy, caffeine, and energy drinks your kids could ever want – the ensuing tantrum will be even BIGGER than the one they had on The Tuesday We Don't Talk About Anymore. Whoa, was that a rat? It sure was – and he was wearing the littlest hat you've ever seen! Aww!
The whole Hilton-Marriott Airport Gate Holiday Inn Express team has been working overtime to make your stay a memorable one – Literally! Your stay in this forsaken place will never leave you for the rest of your days. So bon voyage, travellers! And remember: you could have just stayed home instead!