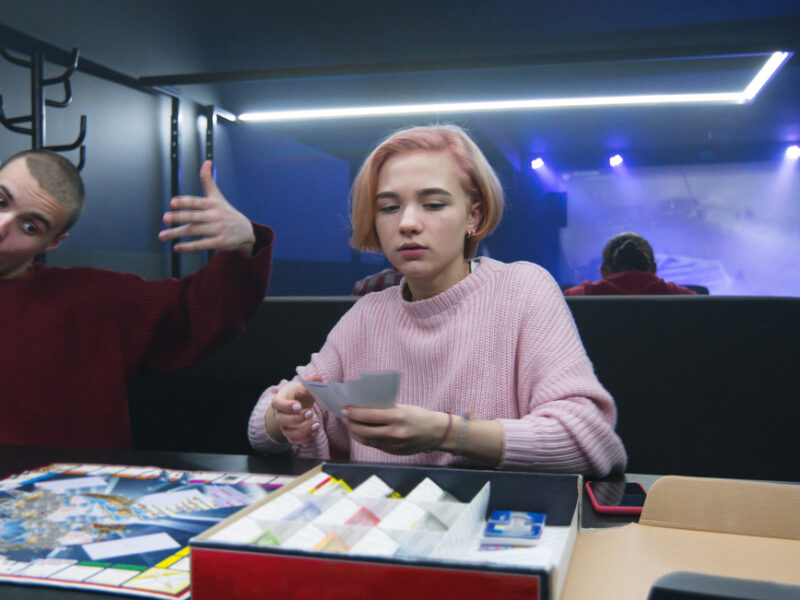 Bad news, folks.
Tiffany Crane reports that she still doesn't understand how to play the fantasy TTRPG "Slay the Gauntlet" despite her boyfriend's insistence that she'll totally figure out the convoluted rules as she goes.
"I joined Brad's game night as a way of getting to know his friends," stated Tiffany, who, upon her arrival, was mortified to learn that the game's rulebook had a table of contents. "There were chapters, an appendix, even an 'about the author' which as we all know is a war crime at best."
Brad noticed his girlfriend's discomfort and assured her that she could learn the game without reading the manual, which is a bit like saying you can jump back into Russian Doll without rewatching the season one finale like nine more times.
Still, Tiffany was determined to give it her all and bluffed her way through 20 minutes of dice rolls and trivia questions — before realizing that the group was just creating their characters and that she had inadvertently signed up to play as a mud dwarf named "Smud".
And things only got worse once the game finally kicked off. Tiffany watched, perplexed, as Brad's friend Alex rolled a 9 which either launched them into first place, drained all of their resources, or made it so they can only speak in rhyming couplets for the duration of their turn.
"I may not know exactly what happened", muttered Tiffany, "but I do know that I have a law degree which makes my confusion so much more humiliating".
Tiffany finally hit rock bottom when she failed to cast a summoning spell without first ascending Gabriel's Tower to drink from his Chalice of Tongues and, as a result, had to spend three turns in the Pit of Xandor or Xanadu or possibly Xanax.
"Slay the Gauntlet really isn't that complicated", remarked Brad's friend, Jessica, a level 43 dice-stacking Fairie Elf with dual cosmic and blood magic specialization.
"The reason we love it so much is because it's for everyone. There are no age limits, no gender roles. It's the most accessible game out there, and furthermore –". We were unable to get the rest of her statement because she spoke in some Fae language that takes 12 years to learn.
Luckily, Tiffany was able to learn just enough about the game to let herself get eaten by a horde of mutant hyenas and zone out on her phone for the remaining 9 hours of gameplay. "After all", added Tiffany, "if you can't beat 'em, just throw in the towel and shitpost on Twitter".
Despite her frustration, Tiffany is pleased that Brad plans to make things up to her by joining her on a hike next weekend. "Hiking may not be his thing", smiled Tiffany, "but I know that he'll totally get into it after the first mile or so!".