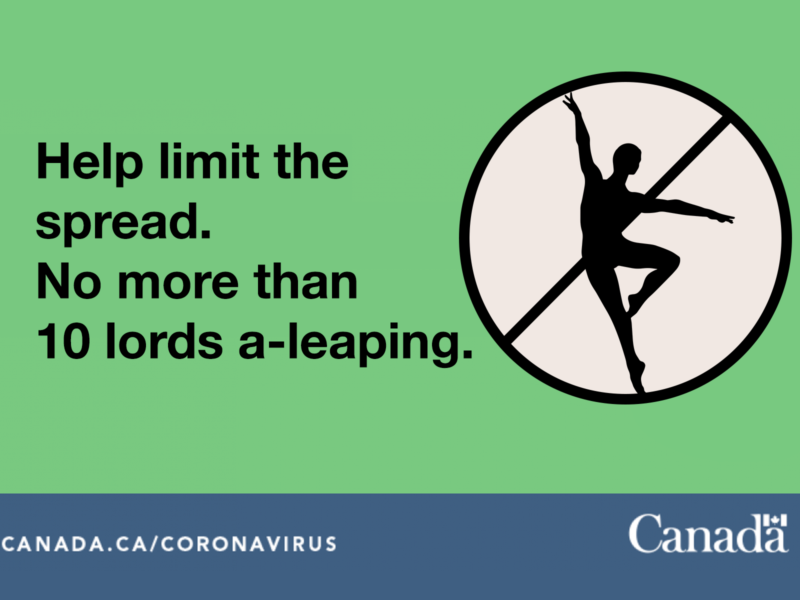 OTTAWA – As the holidays approach and cases of COVID-19 continue to rise, the Public Health Agency of Canada has urged citizens to limit social events this season to less than ten lords, especially those a-leaping.
"We understand that large groups of lords a-leaping are a treasured Christmas tradition, just like figgy pudding and trolling yuletide carols," said Chief Public Health Officer Theresa Tam at a conference earlier today. "But this year it's not a safe option. We recommend lords a-Zooming or at least a-social distancing in rooms a-well-ventilated."
Federal Health Minister Patty Hajdu added that there is not a "magical safe number" for gatherings, citing a coronavirus outbreak in Halifax traced back to nine ladies dancing.
Despite recommendations from health officials many have taken to social media to boast about their large-scale holiday plans. One Twitter user went so far as to claim, "the government can't stop me from getting together with seven other maids to go a-milking!"
Many other holiday festivities are being put on pause due to coronavirus concerns. As more municipalities impose bans on live performances it's likely that Canadians won't experience drummers drumming and pipers piping until late 2021.
In related news, virologists in Germany have identified a new strain of bird flu present in partridges that reside in pear trees.