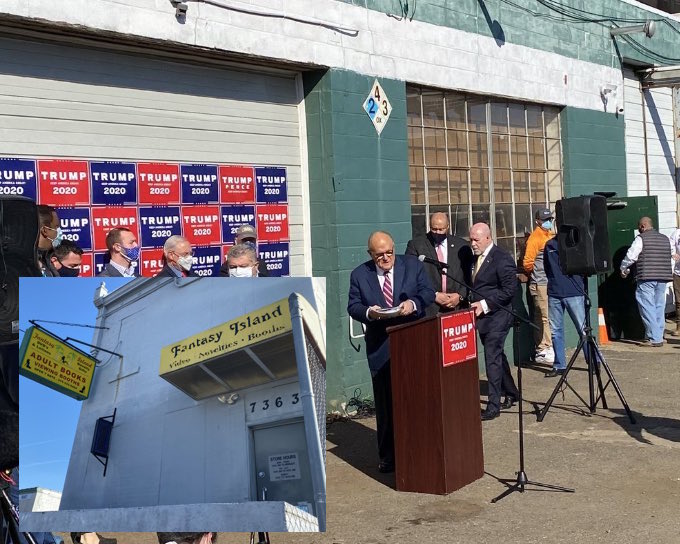 PHILADELPHIA, PA – Following his widely-mocked Saturday morning press conference in front of Four Seasons Total Landscaping, Trump personal lawyer Rudy Giuliani clarified that he obviously meant to hold the event in front of the nearby porno store.
"This embarrassing mistake never would've happened if they'd booked my press conference for Fantasy Island Adult Novelties, across the street, like I originally intended" explained a flustered Giuliani to assembled reporters.
"Clearly we meant to hold it at a store that sells yank oils and not some random parking lot. What is this? Amateur hour?"
The former New York Mayor, known to many as "the hero of 9-11", took reporters on a tour of his intended location for the urgent Trump campaign event in order to show them that the original plan would never have drawn derision. As he walked media past rows of anal beads and dusty 2-for-1 Hustler dvds, Giuliani explained why this was the perfect location to inform the nation of the Biden campaign's electoral fraud.
"When it comes to affordable nudie magazines, Fantasy Island in Philadelphia is a local business that I trust, and that Americans can trust," emphasized Giuliani. "You see those markdown prices on irregularly-shaped fleshlights? That's an honest deal – unlike the crooked swindle the Bidens used to steal this election from Donald Trump!"
Giuliani then held up a used copy of Playboy's December 1997 issue, emphasizing, "See this? Good old fashioned tactile American smut. Double-gloss, non-stick pages. Natural, mid-western trim. You won't find this digitally online, or on any of Hunter Biden's many laptops!"
Reached for comment, Al Gremlerson, owner and proprietor of Fantasy Island, was sympathetic to Giuliani's error. "We probably would've let Rudy hold his press conference here, since any time he's in town he always makes a point of stopping by the store."
Gremlerson continued, "He mostly leafs through the gently-used skin mags and makes loud comments like 'Who, look at the bazongas on her', but otherwise he's one of our most loyal customers."
"Why, sometimes he's loyal over here four, maybe five times a day. Depending on how hydrated he is," he added.
Asked why the location mix-up occurred, Giuliani took full responsibility for the local lawn maintenance warehouse being booked instead of his beloved Philly porno shop.
"Apparently when I asked our campaign aides to book the presser at Fantasy Island, they immediately assumed that I had fallen for yet another Borat prank," Giuliani explained. "In fairness, saving me from falling victim to elaborate Borat scenarios has become something of a full-time job for our staff, so really that one's on me."
At press time Giuliani was pleading with reporters to return to Fantasy Island Adult Novelties tomorrow morning, behind the beaded door where they keep "all the real kinky merch", at which point he will "blow the lid off" Joe and Hunter Biden's secret scheme to irradiate all the gold in Fort Knox.