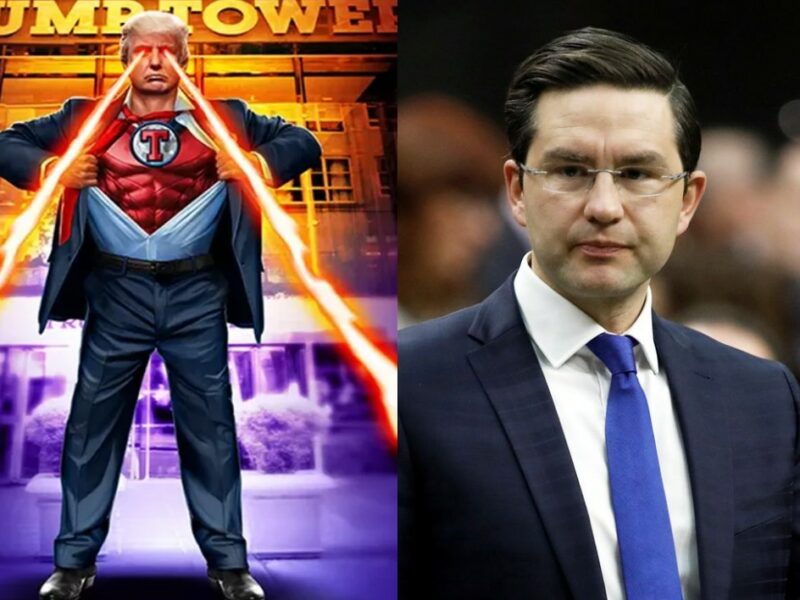 OTTAWA – As Canada's federal legislators prepare to return home for their six-week winter break, the leader of the Conservative Party was seen running out of the House of Commons chamber to tell people all about his sick new Trump digital trading cards.
"Here he is as a race car driver, and in this one he's an astronaut," a hyperactive Pierre Poilievre said while showing the cards on his phone to everyone who wasn't able to walk away quickly enough. "And here's one where he's a superhero. And here's one where he's a hunter wearing a cowboy hat. That's so kickass. Look, he's got a gun! NEATO!"
Trump's recently released NFT cards have been highly sought after by those who appreciate worthless digital assets and reactionary populism. Poilievre, who has repeatedly promoted volatile cryptocurrency to Canadians while embracing anti-democratic movements like the right-wing convoy that paralyzed Ottawa last winter, couldn't contain his excitement when a product that perfectly encapsulated his two interests dropped.
"These babies aren't just fun to look at, they're totally gonna appreciate in value," Poilievre said after cornering several elderly Conservative MPs who just wanted to go home but didn't have the physical strength or moral fortitude to push the leader of their party aside. "I didn't buy them to sell them, I bought them because they're super cool, but I'll still make a fortune if I resell them. Which I could use, after the bath I took on Bitcoin."
"I just wish I could print them out and make them into stickers which I could trade with my friends if I had friends, but the cards are non-fungible, which means no one can't do that, it's like, illegal."
At press time, Poilievre was looking into releasing his own line of NFT trading cards but neither human artists nor AI programs were able to reproduce his likeness without it looking exactly like the character of Milhouse from The Simpsons.