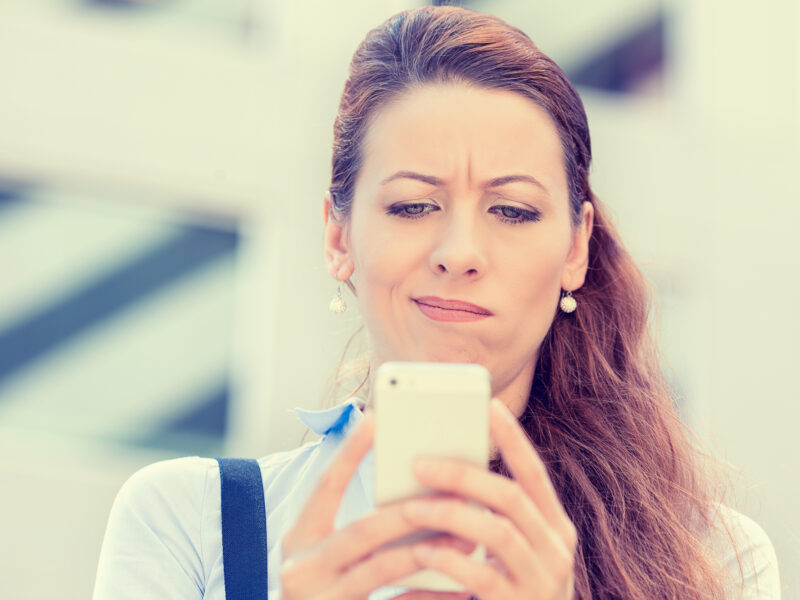 OTTAWA – A new study analyzing the cost of cellphone plans and data worldwide has revealed that Canadians pay the highest mobility rates out of 44 countries- wait.
Are you reading this on your phone? On wi-fi, right? Because we want you to read this article but you really can't afford to use your limited data on this, so unless you're one of the fifty or so Canadian billionaires who are wealthy enough to afford unlimited data, you need to stop reading this. NO, DON'T GO BACK, THAT WILL JUST RELOAD THE PAGE YOU GOT HERE FROM, USING EVEN MORE DATA!
Here's what you're gonna do. Put your phone on airplane mode, turn it off, and then don't even touch it until you are in a location where you know, for a fact, that you have access to wi-fi.
Everyone reading this article is now on wi-fi, right? Great.
Despite campaign promises from the Liberals that they would reduce Canadian cellphone plan prices by 25%, Canadians still pay the most of any G7 country for data and-
OH SHIT, YOU'RE STILL ON DATA! YOU GOT HOME AND FORGOT TO SWITCH TO WI-FI! TURN OFF YOUR MOBILE DATA! TURN IT OFF! THE TINY AMOUNT OF DATA THIS ARTICLE USES COULD RESULT IN YOU BEING CHARGED A FORTUNE FOR GOING OVER YOUR MONTHLY DATA ALLOWANCE! OKAY? OKAY!
Very few mobile users in the world pay more for data than Canadians, and there is every indication that the Liberals have given up on lowering costs for consumers, with the CRTC (Canadian Radio-television and Telecommunications Commission) recently siding with telecom companies Bell, Telus and Rogers regarding wholesale internet rates, guaranteeing Canadians will continue to pay sky-high prices for phone plans that provide very little data-
OH MY GOD, HOW ARE YOU STILL READING THIS USING DATA? HAVE YOU CHECKED YOUR WI-FI ROUTER? UNPLUG IT, PLUG IT BACK IN AGAIN! YOU NEED TO PAY MORE ATTENTION TO YOUR MOBILE DATA USE, YOU'RE PLANNING TO WATCH NETFLIX AFTER THIS, DO YOU HAVE ANY IDEA HOW MUCH DATA AN EPISODE OF THE OFFICE WILL EAT UP? USE YOUR HEAD, NOT YOUR DATA!
While there is some evidence that the NDP will turn the Liberals' failure to reign in phone plan costs into an election issue, it remains to be seen if that will resonate with voters-
Aaaaaand you've just gone over your data allowance for the month. Were you listening to streaming music? Oof. Tough break. But hey, next month is only two weeks away, maybe you can take this time to use your phone less when you're out in the world, really be present in the moment and damn does that sound boring, yeah, you need to find someone with a really great family plan and just marry them, immediately.