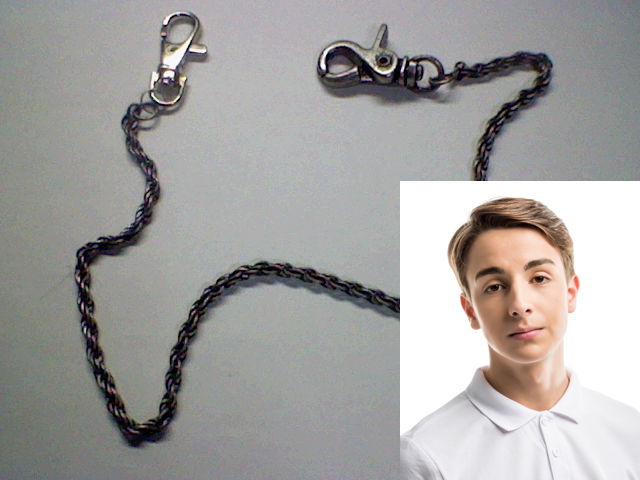 CALGARY, AB – Duncan Mckenzie believes the new chain connecting his quicksilver branded wallet to his pants is really going to turn some heads this year.
"A lot of kids don't seem to take me seriously," said Duncan. "But with this new wallet chain, I they'll think twice before they mess with me. Not only is my wallet now completely safe, but I also demonstrate that I am strong enough to wear this light metal chain all day without any real effort. 2020 is the year of the Duncan baby."
Duncan's creative choice was reportedly inspired by every other boy who had a wallet chain. Duncan presumed that the longer and thicker the wallet chain, the tougher the boy must be. "That's why I got the bike chain thick version. I think people will see it and think, 'He's not only very tough, but fiscally responsible'. Deborah Peloszi is going to be all over me. Most of the other boys will probably invite over to all their houses on the first day of school. Boy, I am going to be busy!"
Teachers at Duncan's high school have not failed to notice how badass Duncan is now that he has a wallet chain. "I thought Duncan was a bit of a pussy last year," said Helen Pelter, the drama teacher. "But once I saw him with that wallet chain, I knew he must be some kind of super rich renegade/drug lord who doesn't take nothin' from nobody. When you combine that with his West 49 shirt clearly demonstrating he's a pro skater comparable to Tony Hawk, he's gotta be the coolest kid in school now."
Duncan's bully Robert Derpont reportedly took one look at Duncan and exclaimed, "Well, looks like my time has come to an end." He then cleaned out his locker and walked out the front door, knowing he would never bully again.
Dona Freedman, Duncan's school principal, worries about the intimidating landscape of the school now that there is this new desperado in attendance. "Don't get me wrong, this kid looks cool as fuck," said Ms. Freedman, lighting a cigarette while staring out the window toward the playground. "But what effect is this ladykiller going to have on my school? If he gets mixed up with the kids wearing Che Guevera shirts, we might have a full on country-wide revolution in our hands," chuckled Ms. Freedman, extinguishing the cigarette into her own palm.
In related news, Britney Cassamore has chosen to wear dark eyeliner and a choker to school so her classmates will finally understand the "deep, dark, complicated soul trapped within this upper-middle class teenager's body."