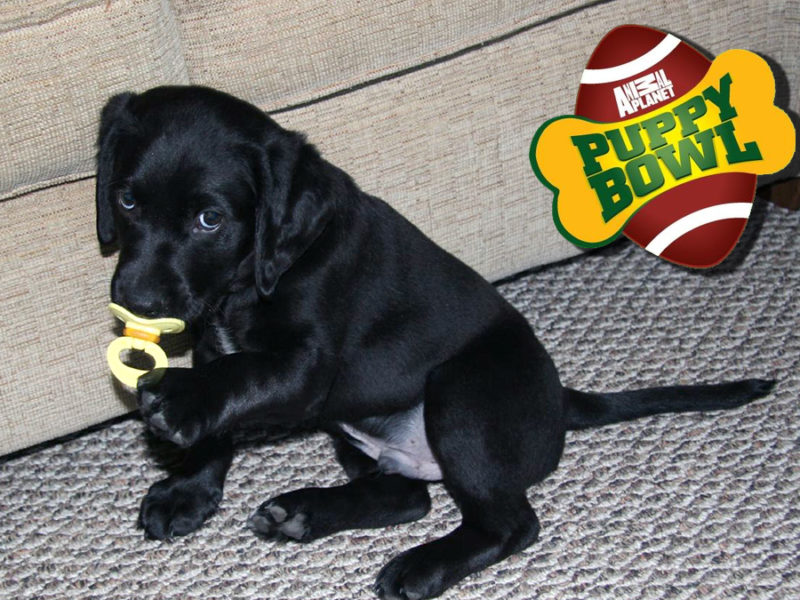 SILVER SPRING, MD – Causing a row in what was supposed to be a jubilant culmination of this year's adorable puppies playing season, Animal Planet officials at the Puppy Bowl have suspended Coal, a 10-week-old black Labrador retriever, for sitting during the Star Spangled Banner.
Before the game even started, pet owners Kate and Mitch McClellan of Lowell, Massachusetts, noted Coal's recent obstinate behaviour, defiantly sitting even when commanded to go uppies, or incorrigibly barking his mind on issues such as police violence and when the mailman was outside.
"We're disappointed in that puppy," said the McClellans in a statement. "He is not a good boy. He is a bad boy. He should know better than to show disrespect for our flag, our troops and our country. His behaviour is not befitting of a pup from New England."
"At this point, we consider Coal a free agent, and we are entertaining offers for adoption from other families," they added. 
After the incident, the incensed crowd assembled in the Animal Planet studios hurled insults at the willful pooch with taunts like, "All Puppies Matter," "This flag is not for marking your territory" and "Go back to Canada!" Coal, the starting wide retriever, was then escorted off the turf to spend the rest of the game in his crate.
This while an enraged President Trump tweeted his scorn. 

At press time, the Puppy Bowl halftime show is rumoured to feature a hologram of famed puppy musician, Prints.
Image via Flickr/Discovery Communications