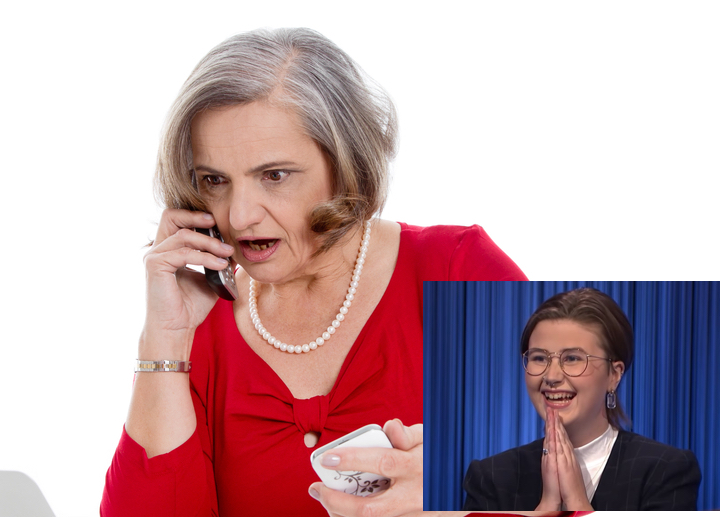 HALIFAX, NS – Earlier this week, Eleanor Weaver, 23, got a panicked call from her mother around 10pm just to say that the current Jeopardy champion, Mattea Roach, is Canadian.
"I thought something was wrong with Dad," said Weaver, swiping away texts from her mother about how she could've passed Roach at some point at Mic Mac Mall or at Point Pleasant Park. "Mom was out of breath, screaming into the phone. Then when I visited her the next day, she was telling me about this 'brilliant young lady,' and grabbed my arm so hard that blood stopped circulating. I had to go to the emergency clinic."
"Not just from Canada," Mrs. Weaver said, shaking us, "from NOVA SCOTIA! That's where I live! We've driven on the same roads! Eaten from the same fast food places! Been scared by the same weird guy downtown by the Beavertail stand who throws loose change at tourists!"
However, apparently after the initial excitement, things took a turn for the worse. Mrs. Weaver reportedly told her daughter, "To think, that could've been you up there!" Which made her realize that Eleanor clearly hasn't been applying herself, and to see her on that Jeopardy stage would've been better for Mrs. Weaver than a grandchild.
Even so, Eleanor Weaver shrugged off this behaviour, stating, "She goes through these phases. When Elliot Page got nominated for an Oscar, we threw a party, when Sarah MacLachlan started making those sad dog commercials, mom got 7 rottweilers that destroyed our house, and when our young neighbour Billy's TikTok went viral, she adopted him. Full on adopted him."
Other moms across Canada have had similar reactions to seeing Roach succeed on Jeopardy. Eileen Canter, a mom from Toronto, ordered a helicopter to drag a blown-up photo of Roach's face across the city after Roach's 11th win. Another mother from Ottawa, Sandra Ramsay, is petitioning that Roach becomes the new face on the Canadian 20 dollar bill.
At press time, Mrs. Weaver was seen buying a ticket for LA to attend Jeopardy's Tournament of Champions to watch Mattea Roach, face painted like a Canadian flag, and holding a vuvuzela.