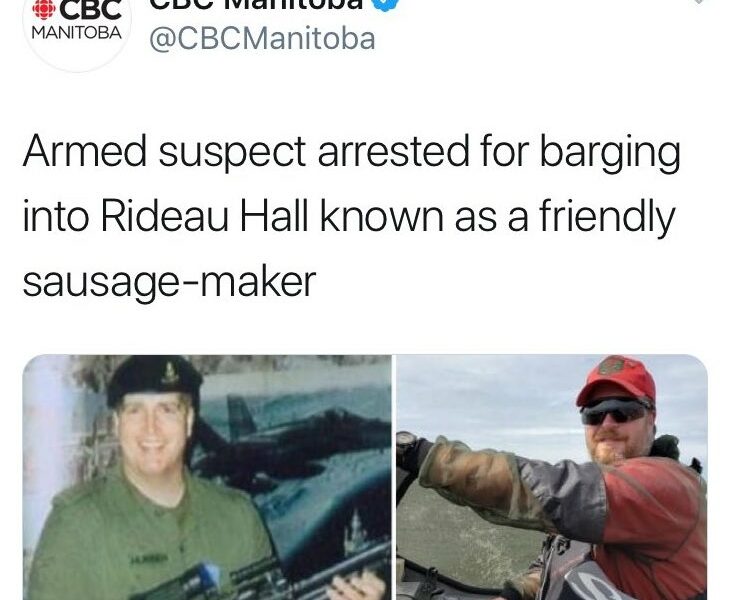 OTTAWA — Despite widespread commitments last month to confront systemic racism within journalism, Canadian media outlets have allowed themselves a quick cheat day to praise the armed, white terrorist who crashed a pickup truck through a gate and wandered the grounds of the Prime Minister's official residence with a gun.
"Look, I know we made some big promises about 'combating racism in all its forms'," said CBC/Radio-Canada CEO Catherine Tait of the outlet's recent statement on Anti-racism, diversity and inclusion. "But sometimes you just have to go easy on yourself so you can talk about this heavily armed white guy's great jalapeño garlic sausage business".
Corey Hurren, the man who drove to Ottawa from Manitoba with four guns in his pickup truck, now faces 22 criminal charges and a strikingly positive PR campaign by many of Canada's major news sources. Journalists have been quick to track down friends and neighbours for a quote about how "shocked" they are that a "good community member" and "heck of a fisherman" like Hurren would attempt to "tell Trudeau what's what".
Torstar CEO David Holland says there's good reason for the favourable press coverage. "We at the Toronto Star said we would be taking concrete measures to address inequality, exclusion and discrimination. But this is a marathon, not a sprint. We have to give ourselves the occasional day of stressing that the COVID-19 pandemic took a particularly hard toll on this white guy, otherwise we'll tire ourselves out with all the anti-racism, justice and accountability we're doing".
Others put the blame on the readers for their high expectations. "Be honest: What did you think we were gonna do?" said National Post CEO Andrew MacLeod. "I mean, we started out small, calling this guy a 'farm boy' who grew up in nature and then we just started binging on talking about how he volunteered at the local Lions Club, and how him turning up at the Prime Minister's residence with weapons was a life-changing mission. We couldn't resist."
"And did you hear this guy met Arlene Dickinson from Dragon's Den once? I mean, wow!"
Now that the cheat day is over, most media outlets have re-committed themselves to really working hard against racism again, and have requested that anyone who sees some should let them know where it is.