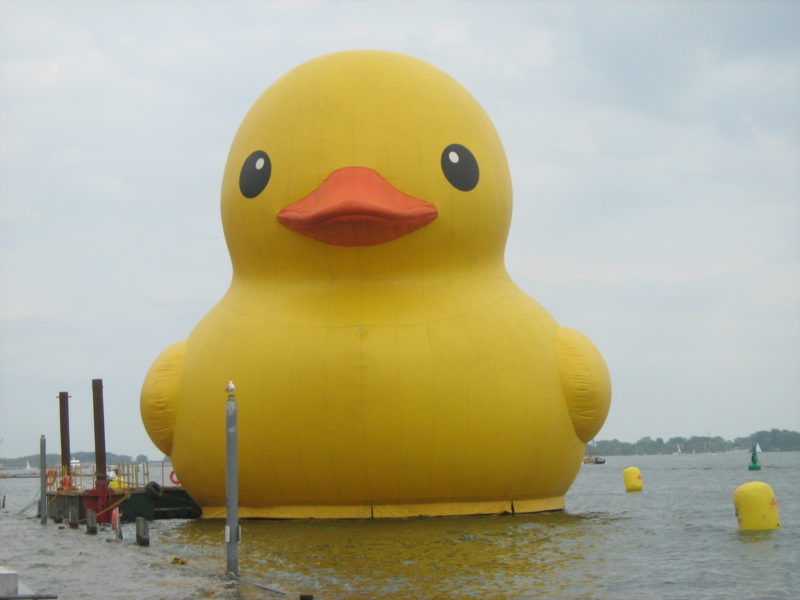 TORONTO – After weeks of unemployment following the Canada 150 celebrations, the giant rubber duck that was a star attraction has tragically deflated itself while trying to shoot heroin.
"I've seen it a hundred times," said officer on the scene Hank Isringhausen. "They're on top of the world, then it all goes down from there. No job, depression, drug use, and then? Pop."
Police are reporting the incident occurred at approximately 2:00am this morning. The giant rubber duck had apparently dragged itself out of the water an hour earlier to purchase the drugs and needle in question, then poked itself and softly deflated under the Gardiner Expressway.
"It was horrible to find it there like that," said Sabrina Tsang, who discovered the duck early this morning. "That vacant look on its face, almost as if painted on. It's really a tragedy, who knew there so little work out there for 13-tonne rubber ducks."
While those close to the duck are mourning this loss, the duck's agent Kevin Franson has perhaps been hit hardest.
"All the signs were there, but I was so blind," said Franson, fighting back tears. "I noticed the inattentiveness, I saw the burnt wing tips, I made myself believe that the rubber tubing was for inflation."
The giant rubber duck is now being rolled up to be taken for autopsy, where coroners will confirm whether the cause of death was overdose or loss of air.
The duck's family is asking for privacy during this time, but have confirmed they plan to send the duck's remains adrift to be with the rest of the rubber and plastic in Lake Ontario.