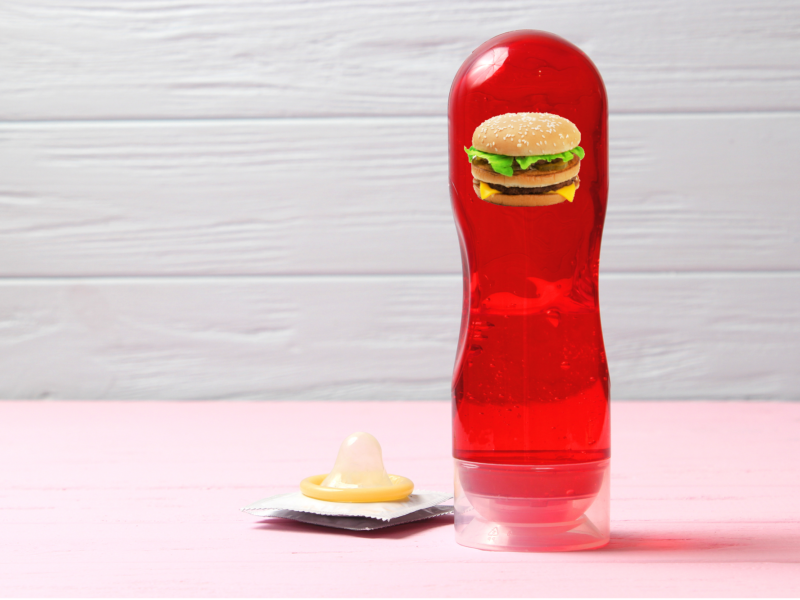 Brantford, ON – McDonald's just announced the release of its new Big Mac sauce-flavoured personal lubricant. Following the success of the Chicken Big Mac and Big Mac sauce dip, the fast-food giant believes this is the next logical step for the brand.
"We are thrilled to offer yet another way to get our signature sauce into people's mouths," said Randy Dick, official spokesperson for McDonald's Canada. "And what better way to experience that flavour than to bring two people ­together – or throuples, or whatever liberals are doing."
While many customers have questioned the appropriateness of a personal lubricant, others say they have been waiting for this product for a long time.
"My partner and I have been using Mac sauce in our lovemaking for years," said Candace DeMois, local jeweller. "So it's nice that we can finally access that creamy zing we love, without chronic yeast infections."
McDonald's is finalizing its marketing plan, but if Big Mac lube is successful, Randy hinted that Filet O'Fish lube would come next. One thing is certain: Ronald McDonald will be the face of McLube – and not just because Grimace is asexual. 
"Ronald McDonald is obviously the perfect choice," said Randy. "Just look at him. Sure, clowns are notoriously sexual, but you should see the gaggle of juggalos he takes home in his clown car. It's unreal. I try not to think about it, to be honest, with all the bike horns and balloon animals."
Big Mac lube will be sold exclusively via McDonald's drive-thrus. Customers can order the product by asking for Combo #69.