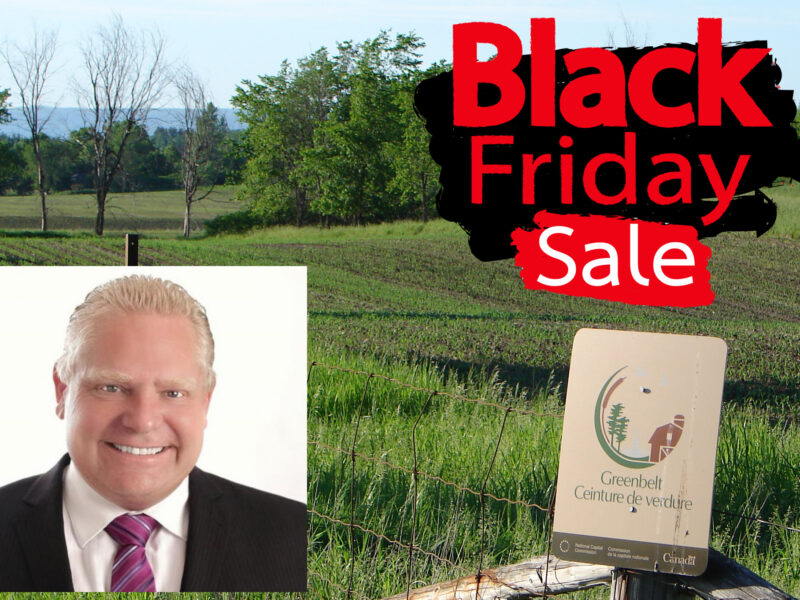 QUEEN'S PARK – Premier Doug Ford announced he is extending his government's Black Friday Greenbelt Land Sale, allowing real estate moguls and elite donors to purchase only-recently developable land at bargain prices.
"That's right folks," Ford announced in his Cyber Monday ad, "We're extending all our Black Friday door crasher deals on prime Greenbelt land!
"Plus, if you use the promo code #CONSERVATIVEDONOR, you can buy a parcel of land worth billions for the original $80 million price from back when I swore I would not open up the Greenbelt for development!" Ford added, winking to the camera.
With Ontario's government recently opening up 7,400 acres from the Greenbelt for the construction of at least 50,000 new homes, despite promising in 2018 and 2020 not to do so, Ford explained that surprise sales are "a Black Friday tradition."
"I can't publicly announce these sales before Black Friday," Ford responded, "At least, my donors told me I wasn't allowed to."
Ford's Black Friday Greenbelt Sale has reportedly been a huge success, with wealthy 905 area property developers lining outside Queen's Park since well before dawn. Reports indicate some altercations breaking out, as wealthy construction magnate Silvio DeGasperis got into a fist fight with a lobbyist from Mattamy Homes over the last remaining piece of Mississauga Greenbelt.
Facing accusations that his Progressive Conservatives offered inside information about greenbelt openings to wealthy donors, Ford assured Ontarians that his Black Friday sale is not playing favourites.
"This Black Friday sale isn't just for well-connected insiders," Ford insisted. "Any regular Joe can buy themselves some Greenbelt land, provided they're willing to build 10,000 new single family homes, and they were present at the secretly taped fundraiser in 2018 where I told all these property developers which specific land to buy in order to get even more rich."
Ford added, "Plus, if you buy now, Black Friday shoppers can get a free endangered peregrine falcon which will be displaced when the Greenbelt is bulldozed to create more endless sprawl!"
Ontario's PC MPPs have praised Ford's Black Friday Greenbelt Sale. "Our government is considering every possible option to get more homes built faster," said Municipal Affairs and Housing Minister Steve Clark. "Except for increasing density in cities, or legislating against speculators buying up existing housing, or letting municipalities govern themselves — really just this Black Friday Greenbelt Sale that will make our donors fabulously wealthy."
Ford has also announced plans for a Cyber Monday sale directed at political donors who used inside information to buy up land earmarked for an unnecessary highway. "Just as soon as I can figure out how to get my computer onto the dang internet," added Ford, frustrated.
At press time, Ford has pledged to continue selling off provincial assets from the undisclosed location he is hiding in to avoid any questions from the Emergency Act Inquiry.