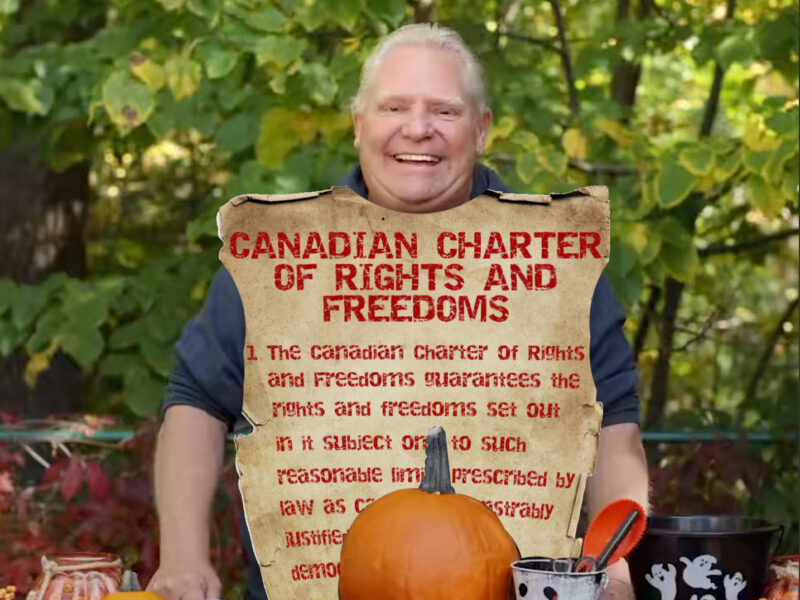 QUEEN'S PARK – While invoking the Notwithstanding Clause to prevent CUPE education workers from striking, Premier Ford appeared dressed in the most terrifying Halloween costume he could imagine: The Canadian Charter of Rights and Freedoms.
"Boo! I hope this document guaranteeing Canadians' right to a free and democratic society didn't scare you too much," laughed Premier Ford as he invoked the previously rarely-used Notwithstanding Clause for his third time in four years.
Ford added, "I want to wish Ontarians a Happy Halloween by dressing up as something truly chilling: a document that prevents my government from doing whatever I want, whenever I feel like it. Eek!"
As Ford signed the bill forcing CUPE members to attend work despite their Charter-guaranteed right to strike, he mused about the terrors of his own costume.
"I apologize to any young children who might have been scared by the spooky document I'm dressed up as. Just know that Premier Ford will always protect you from the spine-tingling Charter, and its horrifying ability to place civil rights over the interests of me and the corporations who paid to elect me."
Sources close to Ford report that this year's Halloween costume was part of an effort by the Premier to overcome his fear of the Charter, and its bloodcurdling ability to potentially stop him from enacting his agenda.
"Seriously, Doug used to wake up screaming in the middle of the night imaging the City of Toronto being able to decide how big their council should be, or his political opponents being able to advertise against him," claimed one aide. "He'd be shouting, 'NO! The Charter is coming to get me!'"
Another Queen's Park staffer confirmed this, "I'm not saying the Notwithstanding Clause has become Premier Ford's security blanket, but at least he stopped wetting the bed so much."
Other "scarifying" costumes reportedly considered by Premier Ford included a bike lane, a fair CUPE contract, and "Kathleen Wynne but she's a Frankenstein".
In related news, CUPE education workers have announced their intentions to override Ford's Notwithstanding Clause with their own Notlistening Clause.