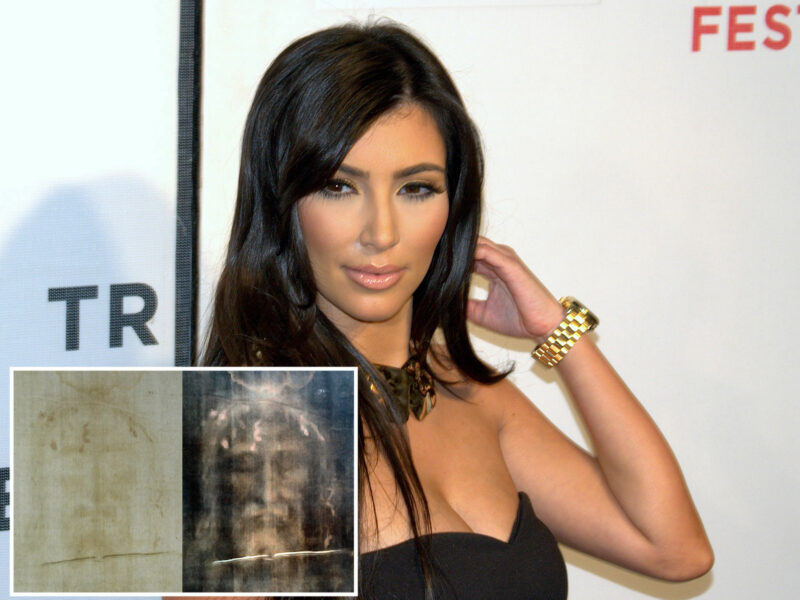 BEVERLY HILLS, CA – The world's most famous influencer, law student, and vessel through which Kris Jenner's business aptitude flows has run into yet another controversy. Earlier this week, Kim Kardashian used the Shroud of Turin to apply makeup during a livestream.
The Shroud in question is a cloth which some believe Jesus Christ was wrapped in crucifixion and now bears his image. While some previous Popes and other branches of Christianity have voiced their support in the authenticity of the Shroud, the Vatican currently does not formally endorse it. The scientific evidence that the cloth actually bears Jesus' image was simply too improbable in the context of the tale of God's magical immortal son with superpowers that included getting people trashed and being resistant to schoolyard burns about his mom's sexual activity.
Many believe that Kim K should not have destroyed the sacred cloth for views, calling it wrong and tacky. "It doesn't matter who you are or what the event is, you cannot damage historical artefacts," commented archivist Stephanie Benson. "That's what almost got Nicolas Cage cancelled."
"It was iconic," said makeup artist and Sephora Rouge member Robert Brun, one of Kardashian's few defenders. "First, she balled up the Shroud and dipped it in her foundation—her accurate colour now that she's dating Pete and blackfishing is no longer profitable for her— and pressed it all over her face. Holy grail!"
BeautyTokker @MichelleLaguardiaMUA agreed with Brun in a series of statements she pointed to, citing Kim's brilliance in taking inspiration from "the original influencer" and also the way Kourt always says bible. Laguardia also cited the high importance of the event Kardashian was prepping for (the ribbon-cutting of a Costco presented over Zoom) as a major factor for support.
The owners of the Shroud of Turin have issued an apology for lending the cloth to Kardashian. "We here at the Criss Angel Mindfreak House of Whoa are very sorry for our poor judgement in lending Kim the Shroud," their spokesperson DJ Pauly D sounded out. "We apologize."
Though the Kardashian kamp has yet to respond for comment on the controversy, Kanye has taken to instagram to share his unintelligible thoughts on the matter in a move experts are calling "an alarming pattern of domestic violence" and what TMZ is calling #DRAMAWATCH2022 *popcorn emoji* *popcorn emoji*.