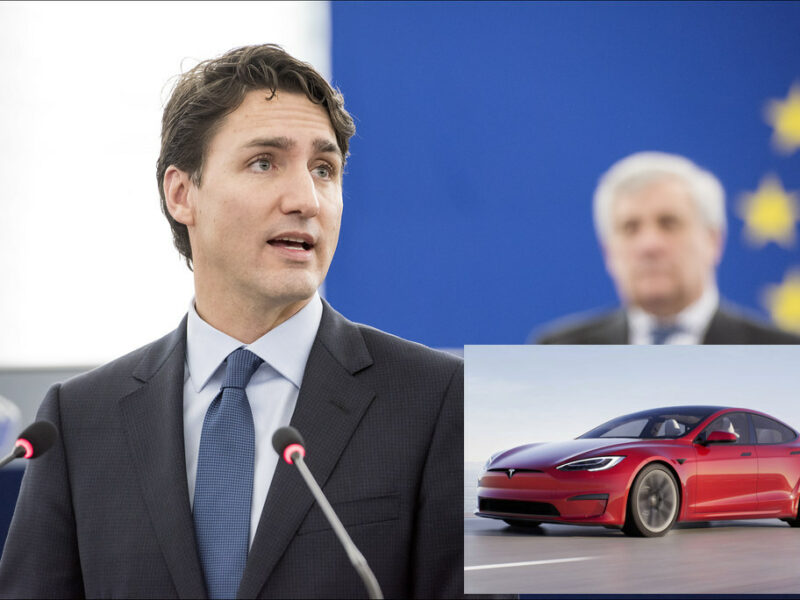 OTTAWA – Today during a press conference discussing Canada's commitments to reduce carbon emissions, Prime Minister Justin Trudeau expressed confusion over why more Canadians currently struggling to pay for rent, food, and other basic necessities of life are not purchasing outrageously expensive luxury electric vehicles.
"Canadians have resoundingly expressed their support for our green agenda. Which is why I simply can't understand why more environmentally-minded Canadians are not embracing the clean power of electric vehicles," said Trudeau, listing a variety of electric vehicles available in Canada, the purchase of which would immediately bankrupt the average Canadian household.
"With the sharp increase in the cost of gasoline, we get that everyone's feeling the squeeze," said Trudeau. "Which is why, again, I'm at a loss for why my fellow eco-conscious Canadians aren't taking advantage of the fact that they could be re-charging their vehicles at home with clean, renewable electricity for just pennies on the dollar," continued Trudeau, referring to electric home charging stations, for which the purchase and installation of a single station costs more than the yearly take home pay for well over half the country.
In response to questions about the financial barriers to electrical vehicle ownership, a spokesperson for the Liberal Party of Canada insisted that their party remains in touch with the financial reality of middle-class Canadian families. "I understand that for middle class families the cost of acquiring an electric vehicle might be a little steep, but we need to prioritize the environment," said Liberal Party Press Secretary Genieveve Belanger, suggesting that some middle-class families they'd spoken to in focus groups had saved for an electric vehicle by doing simple things like postponing the kitchen renovation on their summer home in Italy, taking their children out of falconry lessons, and re-charging their AirPods instead of buying new ones.
"These are small, reasonable lifestyle changes that any working class Canadian family can make in order to reduce their carbon footprint and help Canada meet its climate goals," said Belanger.
Other middle-class Canadians seemed to share the Prime Minister's sentiment. "I don't get the resistance to embracing the green agenda," said local man Robert Midge, a Senior Vice President at a small hedge fund. "If a regular every day Canadian family like mine can switch to electric, I think everyone can."
In a follow-up statement after The Prime Minister's press conference, Minister of The Environment Steven Guilbeault announced that his ministry would be conducting a study on why environmentally-minded Canadians drove so much in the first place instead of simply buying or renting a second apartment closer to their work using their parliamentary housing allowance.