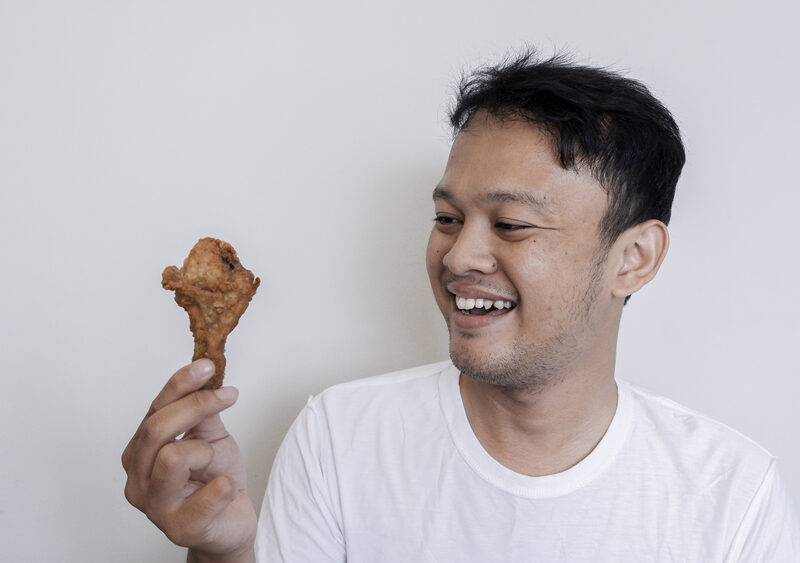 Oshawa, ON – Local man Dalton Framer took time to savour the fact that he was finally allowed to walk into a crowded KFC without a mask, regardless of the fact that Ontario is currently facing 100,000 cases a day of COVID.
"Before the restrictions were dropped I would have had to wear a small piece of fabric around my mouth and I wouldn't have been able to eat near to the guy constantly refilling his soda cup or the woman taking up two tables with grocery bags," said Framer. "A mere hundred thousand cases of a deadly pandemic that has killed or disabled millions seems a small price to pay for this luxury."
"Smell that? It's the smell of freedom. And popcorn chicken," he added.
Ontario's case numbers have skyrocketed since all vaccine and mask mandates were lifted despite scientists' warnings that a new, more contagious variant was about to hit. These experts now predict increased hospitalizations, deaths and a huge rise in cases of Long Covid, especially among young Canadians. But on the other hand, according to Dalton, he no longer feels hot and sweaty around his chin while he orders his bucket for one.
"It just wasn't sustainable to keep restrictions in place long-term," said Framer as he licked his lips. "Unlike say, finding enough ICU beds or keeping hospitals staffed despite massive burnout. Those things we can keep going forever."
Framer and a disturbingly high percentage of the population say it isn't just about the Colonel. They point to numerous other freedoms they have won as being worth the risk, like sitting next to someone at a Leafs game and cheering into each other's mouths with no idea if the other is vaccinated. Or loudly slurping noodles in your office breakroom. Or asking strangers to lick the inside of your nose.
"Is life even worth living if I can't wipe the chicken grease off my lips, burp loudly and then 'forget' to throw away my tray before stumbling home high off chicken fat without having to worry about putting a mask on?" asked Framer.
In related news the truckers are still mad for some fucking reason.