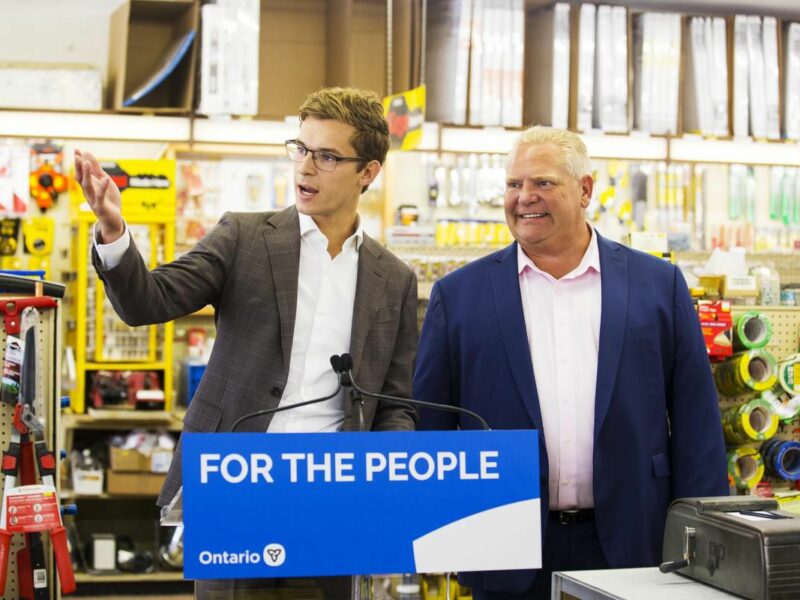 TORONTO – After Tory MPP and Parliamentary Secretary Sam Oosterhoff gave a speech to a controversial anti-abortion group that recently compared a woman's right to choose to the Holocaust, Doug Ford has assured Ontarians that he remains focused on the key issue: being absolutely fucking terrible at getting people vaccinated.
"I can't dictate their private time," said Ford regarding Oosterhoff. "But I want everyone to know that I am spending every waking minute making sure Ontario remains dead last among the Provinces in per capita vaccination rates."
"Besides, how could I have time to punish Sam when I'm quite busy making wild accusations about Indigenous MPPs jumping the Queue for vaccines at the same time as the provincial Health Ministry tries to encourage Indigenous Peoples to get vaccinated."
Oosterhoff is perhaps the most prominent Social Conservative amongst Ford's team. His controversial remarks came just a few months after he hosted a large indoor, maskless gathering over a restaurant's objections. But Ford has refused to punish the young MPP, noting he presents "quite a handy distraction" that prevents people from thinking too much about how the Ford government could possibly not have had a vaccine plan in place for when the first shots arrived.
"I understand many Ontarians feel quite strongly about abortion, and many disagree with me," said Oosterhoff during his remarks. "But I think there are some things we can all agree on. We all love our country for example. And we all agree that women's bodies are bad and sinful right?"
In related news a review of the pro-life conference that Oosterhoff spoke at has revealed that every single one of the attendees looks exactly like Sam Oosterhoff.