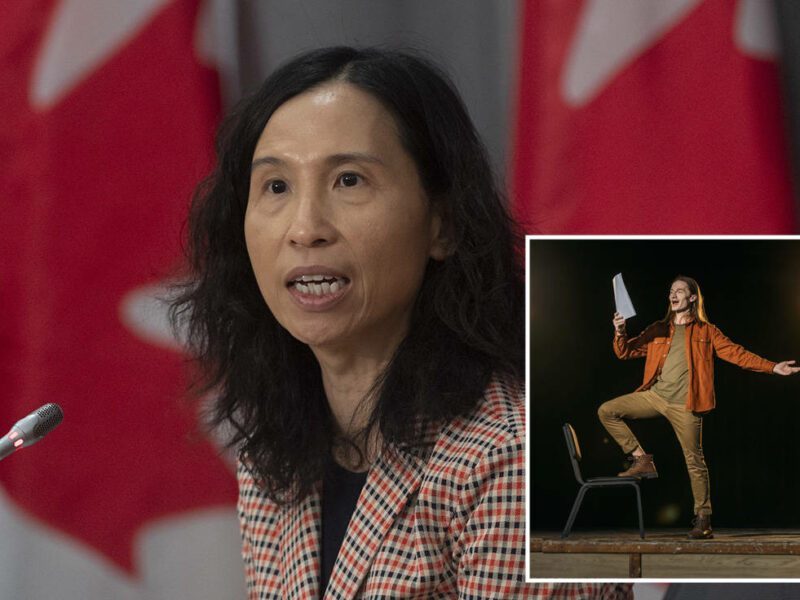 OTTAWA – As COVID case numbers across the country rise due to the winter weather, Health Canada is warning about the unavoidable "spring wave" of hazardously ill-conceived pandemic inspired independent Fringe Festival shows.
"COVID-19-related theatrical productions remain on a troubling course," explained Dr. Theresa Tam, Canada's Chief Public Health Officer. "Health Canada is forecasting an outbreak of hundreds, if not thousands, of awful coronavirus-themed short plays, independent musicals, and God help us all – one person shows about being a struggling actor during quarantine."
"Basically, our data indicates a wave of thousands of theatre 'professionals' who will be absolutely convinced the world needs to hear their thoughts on the global pandemic that we will all be desperate to forget," Tam added solemnly.
Case modelling indicates that various poorly-written scripts and "workshop drafts" are currently incubating all across the country. Health Canada warned of asymptomatic carriers who may seem healthy, despite currently using their Notes app to brainstorm ideas for a painfully unfunny sketch comedy revue with premises like "Speed Dating on Zoom" and "rap song about CERB?".
"These terrible Fringe plays will no doubt ravage the bodies and minds of previously-healthy Canadians," explained Dr. Tam gravely. "The kind of outbreaks we face might include: amateur actors who just can't project loud enough while wearing PPE masks; some kind of weird clown thing where they dress up as the coronavirus and force audience members to join them onstage; or even pathetically-misguided attempts to thematically suggest that the real virus all along was 'social media'."
"Make no mistake, these borderline-unwatchable plays will directly attack our natural defenses," Tam added.
Researchers also warn of the danger of attending any such indoor social gatherings held in black box theatres, converted church basements, or restaurants where most of the patrons are not expecting a Fringe play to start happening. These, doctors warn, are prime infection zones for terrible COVID-oriented independent theatre.
"If we continue on our current pace," Tam added, "our longer range models forecast significant increases in daily Fringe Festival Facebook invitations, and estimate that there could be up to 10,000 daily victims forced to buy tickets by mid-June."
To prevent the spread of brutal COVID-inspired Fringe plays, Health Canada advises all Canadians to maintain social distancing measures, particularly from any friends or family members who are under-employed actors or aspiring improvisers. Canadians are warned to immediately notify health authorities if they spot any office temps putting up flyers in the break room.
Tam also offered the hope that a vaccine may not be available by the 2021 summer Fringe season, thus scuttling any potentially harmful shows before they can spread. "And if we do have a vaccine in time," Tam added, "rest assured that the priority order which determines who will get the vaccine first – frontline healthcare workers – also places Fringe actors dead last for who will get the vaccine, right behind loud crossfit instructors and aspiring DJs."
Health Canada also encourages Canadians to start building tolerance now against bad COVID entertainment by watching those weird Grey's Anatomy episodes that were filmed under lockdown.