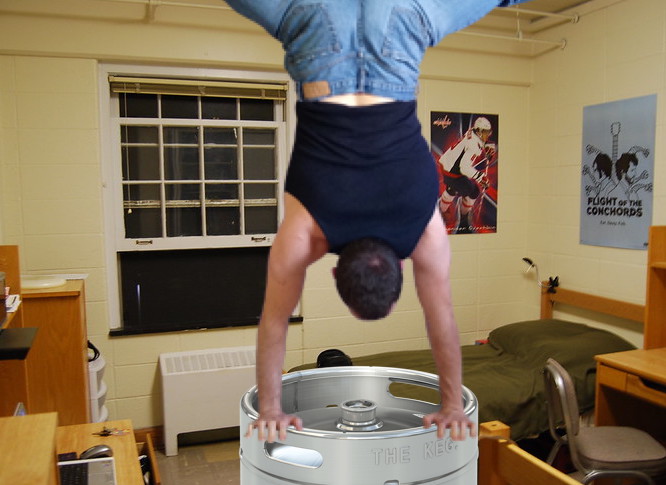 KINGSTON – As cities around the world cancel their St. Patrick's day festivities over coronavirus concerns, one Queen's University student was determined to stick to his initial plans responsibly – by doing a keg stand alone in his living room.
"I've been hyping my keg stand strats since HoCo," commented 20-year-old business major Michael Sullivan. "But obviously we all have a social and ethical responsibility to practice social distancing right now. So this Paddy's, I flexed on the boys from home."
Sullivan, who cannot do a regular handstand while sober, devised a plan involving 30 feet of rope, an elaborate series of industrial pulleys purchased on Amazon, and an enormous bean bag chair to cushion any accidental falls. Then he hopped up on his keg of Magners and chugged, livestreaming the feat to his followers on Instagram.
"It was fuckin' mint," Sullivan sighed wistfully. "Everyone was cheering me on from their rooms. I even got 3 new followers."
Queen's students were widely criticized for ignoring public health's suggestions to avoid bars and restaurants, skip gatherings of over 50 people, and perform all creative forms of alcohol consumption, no matter how sick and/or nasty, alone at home. Sullivan is one of the few who followed government guidelines – and his attentiveness may pay off.
"I'm still very drunk, Becca G. DMed me her number, and my rig looks dope as hell," He grinned. "The replay is gonna do numbers on TikTok for sure. Oh, and I guess I probably won't get coronavirus either. NOICE!"