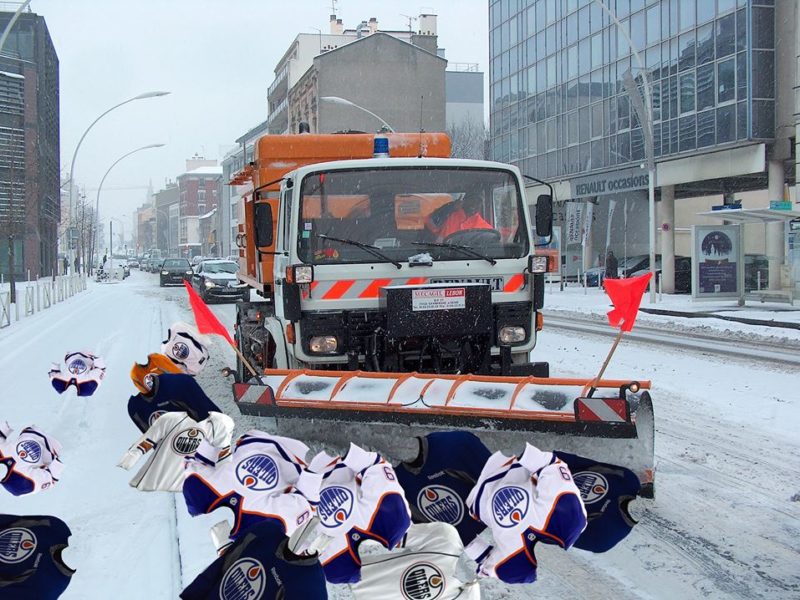 EDMONTON – Environment Canada has issued a special weather advisory for the Edmonton area which is expected to receive up to 10 cm of Edmonton Oilers jerseys from disillusioned fans tonight.
"Precipitation of Edmonton Oilers paraphernalia that is expected to fall from windows and doors may include a mixture of sweaters, hats, and hoodies, making driving conditions hazardous in the city," said meteorologist Gwyn Rogers. "According to our forecast model, added agitation from third period collapses and poor trades will only make the downfall heavier in some areas."
Officials at ETS say travellers should expect delays as crews try to clear the discarded team pride from streets.
Outside of the city, powerful squalls of disappointment will create ball cap drifts on rural roads and police are advising residents to stay indoors since it's not worth the risk for a free Oilers hat.
"We expect our plows to be working all night clearing the streets of signed McDavid and Draisaitl jerseys," said a city manager responsible for clearing streets. "We might have to call in extra trucks from Calgary and that's not even taking into account if they lose tonight."
The manager paused to remove a Lucic jersey stuck underneath one of the idling plows.
"We're living in a different climate now, and Edmontonians should expect shitstorms like these will get worse every year."