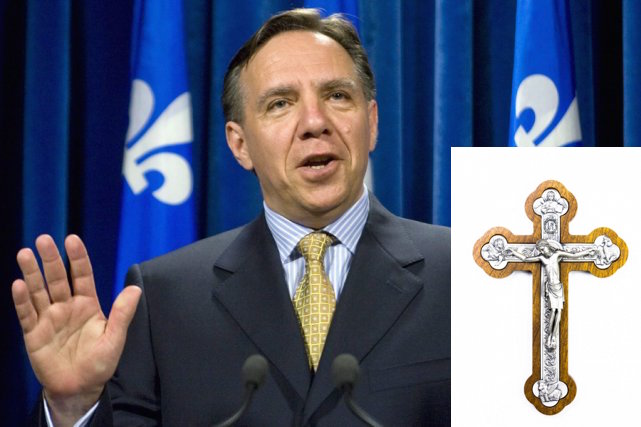 QUEBEC CITY — Premier-designate François Legault has assured Quebec citizens that, since the crucifix is a historical symbol and not a religious one, civil servants of other faiths should feel free and even encouraged to wear them while on the job.
While defending his decision to keep a crucifix hanging in the Quebec's National Assembly, despite plans to prevent civil servants from wearing religious symbols, Legault explained that all crucifixes would now be exempt from the ban. While many Quebec parties have floated similar controversial legislation, the Coalition Avenir Québec leader described his party's initiative as a "unique opportunity to reach out to multi-faith citizens."
"The crucifix doesn't make anybody feel weird or uncomfortable, so obviously it doesn't fall under our religious symbols ban," Legault explained. "And since it's not a religious symbol, it would make a great and stylish replacement for any hijabs, turbans, or those funny little Jewish hats."
While a 2008 government-commissioned report into secularism recommended that the Quebec's National Assembly crucifix be removed, Legault explained that he sees no need. "That crucifix isn't a religious symbol, it is simply a reminder that Quebec was built on the values of our Catholic and Protestant forefathers. Nothing religious about those guys."
Legault went on to announce a new provincial plan, which will allow multi-faith civil servants to exchange their banned religious symbols for a "completely secular" crucifix. "Now you can trade that offensively religious kirpan in for a nice, totally non-religious cross with our Lord and Saviour Jesus Christ nailed to it," Legault added. "Think of it like a needle exchange, but for something even more objectionable – weird religious paraphernalia."
Legault also clarified that the religious items ban, which concerned civil servants in "positions of power", will now cover all teachers, police officers, file clerks, and custodians. "Better safe than sorry," Legault explained. He also confirmed that the new banned items exchange bill will "obviously" invoke the notwithstanding clause. "Where would be the fun if we didn't invoke the notwithstanding clause?" Legault added, "thanks Premier Ford!"
While many claimed the exclusion of crucifixes from the religious symbols ban indicates the policy is racist, and meant to target non-Christian Quebecois, Legault firmly disagreed. "I'm not saying they will be forced to wear a crucifix. I'm just saying that, if some Muslim or Sikh doesn't like wearing a crucifix, that they should probably leave Quebec and go back to where they came from."
"Secularly speaking, of course" Legault concluded.
While Legault reiterated that his religious symbols ban is not intended to target minorities, he assured his supporters that going after refugees is still totally cool.