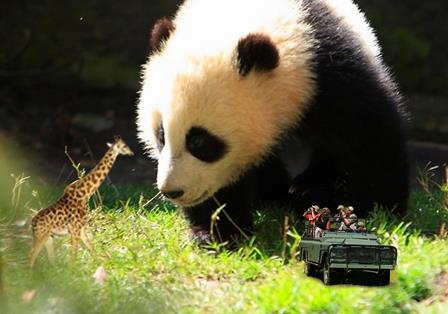 TORONTO — Zoo staff are bidding a fond farewell as the four giant pandas they hosted for several years are being sent to the Calgary Zoo in order to make space for one colossal panda.
"It's been an enormous privilege to care for Canada's first breeding pair of pandas and their newborn twins" said Maria Frank, the zoo's curator of mammals, "And it will be an even bigger privilege to look after Goliath, the towering behemoth panda".
While there were initial plans to keep both the giant and behemoth pandas at the same zoo, zookeepers confirm that the plans were quickly deemed impossible with the available space. As Goliath is 20 metres tall and weighs a stunning 18 tonnes, Toronto Zoo has already had to build an enormous warehouse to store bamboo.
The gargantuan panda is set to debut on Thursday, arriving by shipping freighter from a mysterious island full of exotic creatures and dinosaurs. Biplanes armed with machine guns, the latest additions to the Canadian Air Force, will be on standby should the panda escape.
Mayor John Tory has been keeping a close eye on the transition. "It's a bittersweet goodbye. Our large furry guests brought a lot of people to this city. But think how many more people will flock to see one absolutely massive furry guest? It'll be pandemonium. Especially if it breaks free, which I can assure you will not happen"
Toronto Zoo has announced that Goliath the behemoth panda will be a resident for the next five years, but remains tight lipped about rumoured plans to next host thousands of micro pandas.