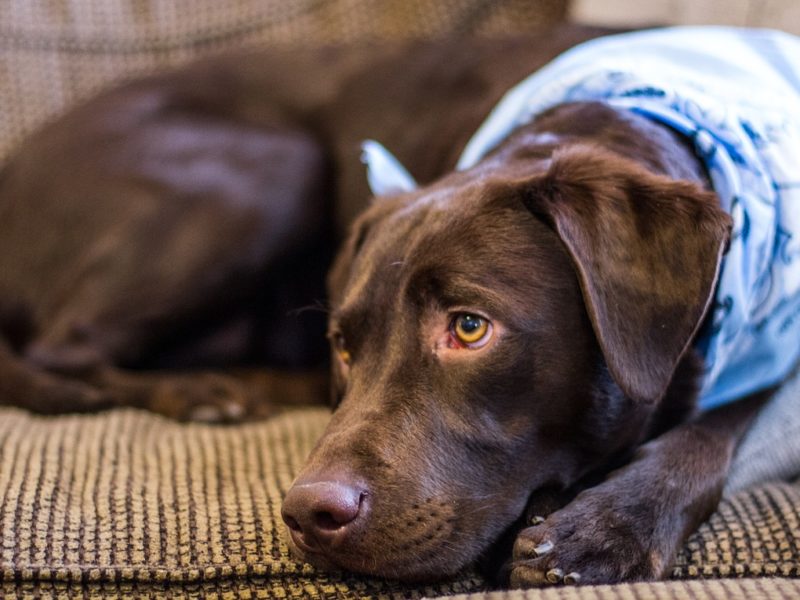 KAMLOOPS – This past weekend saw Barkley, a Chocolate Labrador, spend nearly all of his waking hours on the couch, seemingly unable to stop cleaning his genitals with his tongue.
The binge licking session began Friday night when Barkley's owner, Mike Dossal, tried to unwind with Netflix's new season of House Of Cards. "Work is hectic, and I guess being a dog is also somehow tiring because Barkley just looked like 'I get it, man'," explained Dossal. "Then later, when I took a break, (Barkley) heaved this huge sigh, as if the binge licking itself was hard work."
Added Dossal, alarmed, "When that 'Are You Still Watching' prompt came up, I realized Barkley and I had both been at this for 8 hours."
The trend of Binge Licking, otherwise known as "Heavy Petting" or "Nutflix and Chill", has spread through the dog population nationwide. The canine craze has led to a drastic decrease in attendance at dog parks, dog groomers, and Italian restaurants that set up a big plate of spaghetti in the back alley.
"Binge licking is just terrible for business," notes Earl Winfield, president and CEO of Winfield Rubber Bones Inc. "I've got kids to feed. These millennial dogs could at least indulge in a good old fashioned rubber bone once in awhile." Winfield then added, "On the other hand, if I possessed the flexibility to slobber all over my penis at will, I'd probably also never leave the couch."
"Wait, what was the question?" Winfield asked.
Back at the Dossal house, Barkley's binge-licking session had entered its third day. "Every time I thought he was done, he just went back for another round. He hasn't even remembered to bark at the dishwasher once this weekend."
After seeming having reached the end of binge licking his gonads, Barkley has reportedly begun on his butthole.