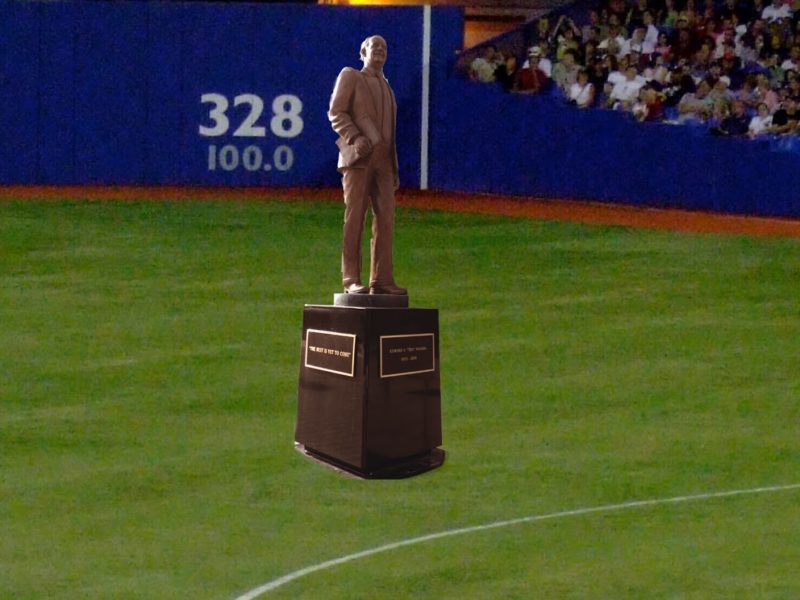 TORONTO – Ahead of the Blue Jays Home opener, team owner Rogers Inc. unveiled a new statue of Ted Rogers in the right field of the Rogers Centre.
"Finally the people will have an in-game opportunity to bask in the glory of famed Chief Executive and legendary baseball affiliated corporation owner, Ted Rogers," said Ted Rogers III, chairman of Blue Jays Baseball. "No longer will they have to go outside wait through the throngs of people just to catch a glimpse of Canada's most visionary baseball, wireless, cable and internet service provider businessman statue."
The 12-foot tall bronze fixture depicts the Rogers company founder in a pose looking upward toward the stands, placed prominently in front of where Jose Bautista usually stands.
"As great as our team is, we knew there was one thing missing from the experience of going to a Blue Jays home game: another reminder that they are owned by Rogers," added CEO Alan Horn.
The late Ted Rogers was a legendary contributor to the game of baseball whose achievements included watching some games, and lobbying Toronto city hall to make it illegal for anyone to say "The Skydome" within 500m of the Rogers Centre.
"The MLB has taken note of the new obstruction in right field and okayed it for player's safety," said Maya Green, Major League Baseball game inspector. "If Boston can have the Green Monster, Toronto can have the Ted Rogers statue."
Alongside the statue the team unveiled a new franchise rule which states that if the ball hits the Rogers Statue in the head and the ball goes out of bounds within fair territory, the opposing team must pay or the damage.