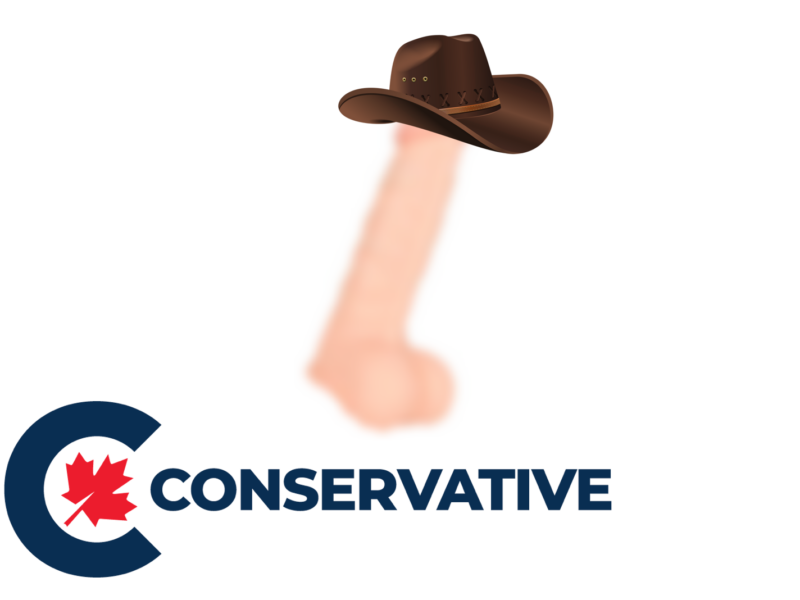 OTTAWA – After a rousing speech by Conservative Party leader Pierre Poilievre at the party's convention last week, the CPC has unveiled a new logo carefully designed to communicate a strong new message to voters. The revamped symbol features an erect penis wearing a little cowboy hat.
"We were really excited about appealing to Canadians who may not be sure that today's Conservative Party aligns with their values," spokesperson Leon Gerbitz told reporters.
"We tried connecting to our target voters in a lot of different ways. Sure, we talked about how much we admire guns and the military, but that could mean a lot of things. We talked about 'axing' policies you don't like, because research shows that a lot of our target voters think axes are cool and strong."
"And of course there's all that stuff about "Powerful Paycheques", which we thought was a slam dunk until someone in a focus group told us the shape of the letter 'o' in 'powerful' makes them think of vaginas and then they think the word it's in must be about a girl thing."
When asked about the party leader's new "tougher" look he debuted in July, Gerbitz sighed with exhaustion. "We were sitting around brainstorming, and we just thought putting poor Pierre in wraparound Oakleys and making him take off his tie and slide on a muscle shirt just seemed cruel. But how else could we connect to our voters? Just show them a boner in a cowboy hat? And THAT's when it hit me."
But designing the boner in a cowboy hat was easier said than done.
"I figured we'd just mock something up in Microsoft Paint and let her rip," graphic designer Tim Lugh told reporters. "But it turned out to be a lot more complicated. Literally everybody wanted to weigh in. We had a 30-minute argument about whether having testicles made it look weak, and whether we should put truck nuts where the testicles would be."
But in the end, leadership was happy with the result, a boner in a cowboy hat that seemed resilient, resourceful, afraid of change, and strongly in favour of cutting taxes.
While the boner wearing a cowboy hat may be shocking to some, voters have on the whole found it reassuring.
"Seeing a boner in a cowboy hat makes me confident that the party I'm voting for can get it up, ride a horse, and start a fire with flint," Moose Jaw's Jerry Lynpe told reporters.
At press time the People's Party of Canada has announced its new logo is just a swastika that speaks French.