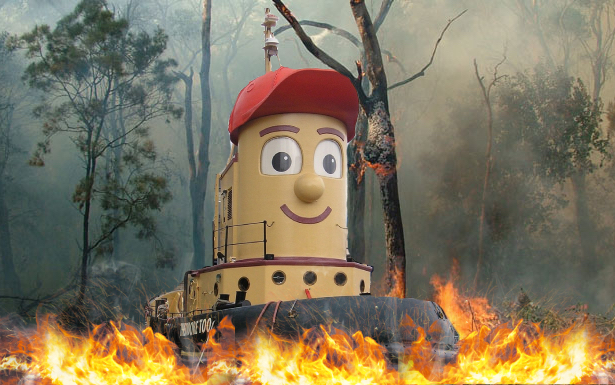 HALIFAX – As multiple wildfires continue to burn across the province, Nova Scotians have decided as a last-ditch effort to sacrifice beloved life-sized children's character Theodore Tugboat in hopes of quelling the angry flames.
"Our brave firefighters have tried everything," noted Premier Tim Houston, "but thanks to these unseasonably dry conditions we have no choice but to deliver Theodore as an offering to the flames and ash, in hopes that his smiling aquatic visage will slake their ancient wrath."
Asked how the anthropomorphic boat felt about being sacrificed to appease a raging inferno, Houston added, "That's the thing you have to understand about Theodore – he's a tugboat, and a friendly tugboat too."
"Much like the mythological Christ-figure, Theodore is prepared to meet his end in order to save the innocent people of Bedford and Upper Tantallon."
While the beloved tugboat had previously been visible in Halifax Harbour for many years, a recent move to spread joy to the people of Hamilton required him to be airlifted across four provinces in order to complete his final mission.
While sacrificing a children's character may seem like an unorthodox response to a natural disaster, many Nova Scotian residents report that they are taking it in stride.
"It's no more strange than the time we sacrificed Basil the Sesame Street polar bear to stop the Juan Blizzard in '04," noted Bedford resident Colleen MacIsaac.
"Sure it might not seem to make sense, sacrificing a 200-ton marine vessel to appease angry fire gods," added Halifax resident Dan Hennigar, "but ya gotta understand that we got one of these, whatcha call it, a Midsommar situation going on here. I'm sure it'll do the trick."
"Take me instead! My hull is leaky and Theodore has so much to live for," bellowed Bully Tugboat from his berth in Dartmouth.
In preparation for his final act of heroism, Theodore Tugboat has elected to enjoy a final meal of diesel fuel and a donair from KOD.
At press time, the Nova Scotian wildfires are reportedly moving away to earn more money as Alberta wildfires.