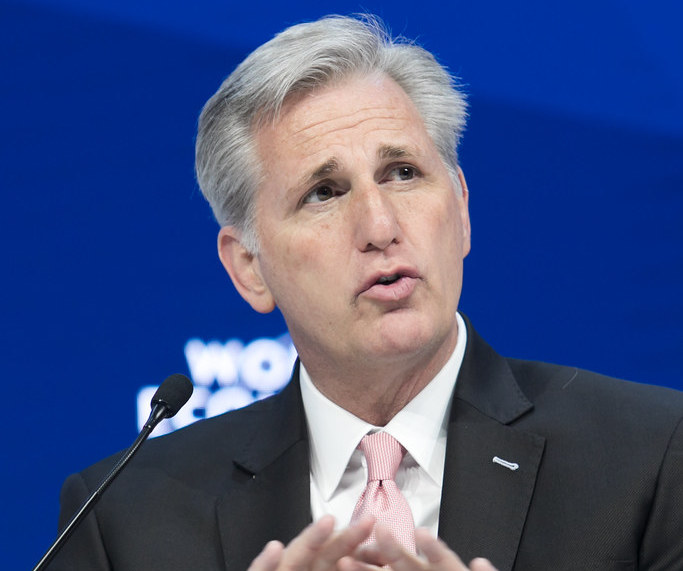 WASHINGTON D.C. – With Kevin McCarthy emerging victorious late Friday night in his bid to become the House Speaker with a resounding 49.7 percent of the vote, he now carries a clear mandate from a united coalition that is definitely not going to fall apart in the first week of his tenure.
After Friday's post-midnight 15th vote – known as the "quinceanera round" – McCarthy finally broke the stalemate with his Republican detractors, scoring a vote tally of 216 for Kevin McCarthy, 212 for Democrat Hakeem Jeffries, and 6 for "Suckmydick Kevin". The savvy new Speaker was able to overcome opposition by offering concessions to his holdouts, including allowing Laura Boebert to investigate Starbucks for Christmas war crimes, and giving in to Matt Gaetz' demand for an annual "bring your granddaughter to work" day.
"I'm just glad the hard part's completely over," a winded McCarthy told reporters after doing the 50 sit-ups that Arizona representative Andy Biggs demanded before giving McCarthy his vote.
"Now we can proceed with what I'm sure will be one of the most harmonious and productive legislative sessions in history, and certainly not a free-for-all anarchic hellscape of performative demagoguery and backstabbing that will make the assassination of Julius Caesar look like a Mediterranean spa day."
With the voting over and McCarthy firmly in charge, the House will begin their new session with a formal change of their leader's title to "Squeaker of the House" – a request granted to Virginia Representative Bob Good to secure his tenuous vote. McCarthy's next task will be committee assignments, which he will begin as soon as his coalition agrees which existing committees should continue, which new committees should be formed, and how to use the word "committee" in a way that doesn't cancel white men.
From there McCarthy will choose the new GOP leadership from a roster teeming with talented and respected professionals — some who have called for Democratic House members to be executed, others who accused their Muslim colleagues of being suicide bombers, and one who fabricated his entire resume and flashed a white power sign while he was casting his vote for the Speaker.
"Piece of cake," crowed McCarthy in an actual crow voice, which he is now required to speak in when he is not physically in the House chamber but still on Capitol grounds.
At press time McCarthy is reportedly enjoying the "relaxation phase" of his speakership, before drafting paperwork for 15 consecutive Congressional Hearings regarding the nudes on Hunter Biden's laptop.