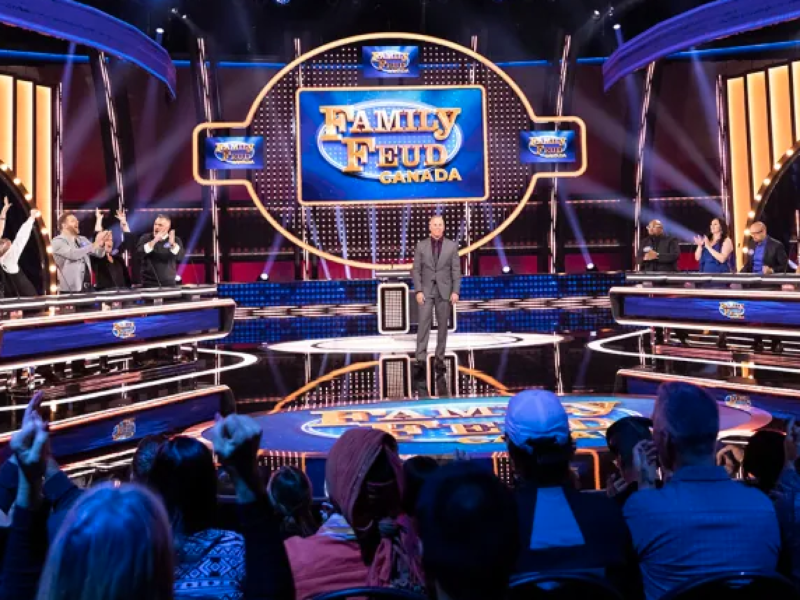 TORONTO – Hold on to your hats Canada, this latest season of Family Feud Canada you won't watch is kicking off with a special all-star episode featuring the cast of two more CBC shows you won't watch, and have probably never even heard of.
Talk about keeping it in the family!
You heard that right, this fall, the CBC is putting the "feud" back in "fiduciary mismanagement of taxpayer funds" by kicking off the latest season of Family Feud Canada with an especially unwatchable episode featuring the "celebrity" cast of two other forgettable CBC shows instead of regular, charming Canadian families — the game show's single saving grace.
In a sensationally insular hour of programming, Canada's national broadcaster, responsible for promoting Canadian content and culture, kicks off the fourth consecutive year of copying an American game show by pitting the cast of The Great Canadian Baking Show, a blatant rip off of a British show, against the celebrity cast of Dragon's Den, a carbon copy of a different British show. Wow, talk about original Canadian content!
"Canadians love Dragon's Den and The Great Canadian Baking Show," said CBC in a press release announcing the new season of Family Feud Canada. "By taking the casts of these shows and removing them entirely from the contexts that made them interesting, we think we've struck a winning formula Canadians will love watching."
Sound right up your alley? No? Well too bad, because there's going to be a second episode too. The back-half of the double-header Family Feud Canada premiere promises to be even more onanistic, as the cast of a Kim's Convenience spinoff starring a former cast member of Kim's Convenience faces off with the cast of an equally tough watch which also stars a former cast member of Kim's Convenience but is not a direct spinoff of Kim's Convenience. And who says the CBC doesn't have original programming!
Long time CBC viewer Gladys Smith, who just celebrated her 106th birthday, says she couldn't be more excited for the new celebrity episodes of Family Feud Canada.
"It's like they put all my favourite shows in one place," says Smith. "I especially like that new comedy. You know the one with the diverse group of people in the place doing the things? I always put that one on when I'm vacuuming or having a nap."
Both CBC all-star episodes will be hosted by long-time Family Feud Canada host and Canadian funnyman Gerry Dee, former star of CBC original Mr. D. Remember Mr. D? It ran for eight seasons? It had like almost a hundred episodes? It was a show about a really bad teacher but not bad like how a lot of Canadian public school teachers are actually bad, but bad in a funny way? That was a funny show right? Right, guys?
Family Feud Canada airs Monday-Thursday at 7:30pm EST on CBC.