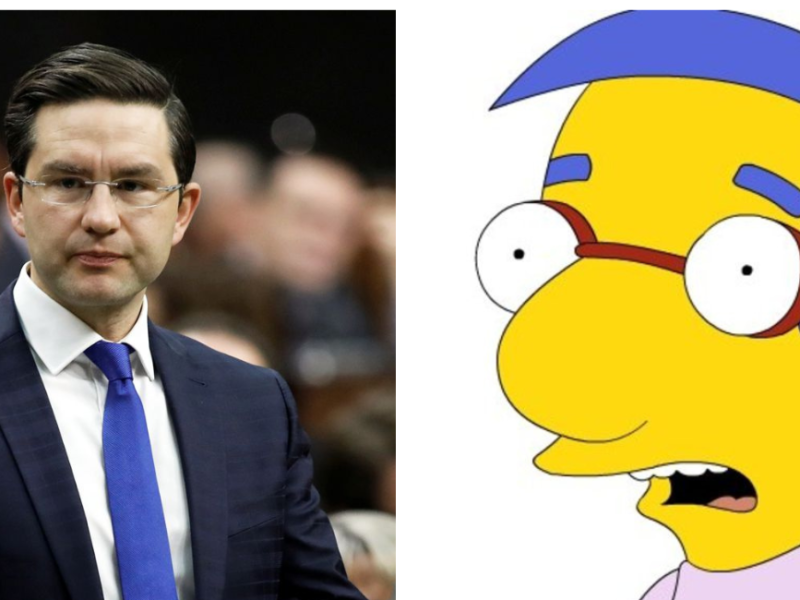 OTTAWA – Not content with only winning the Tory leadership election this year, Pierre Poilievre can now add another victory to his resume. He has just won the 2022 House of Commons Halloween Costume Contest with his perfect Milhouse costume.
"There were a lot of great designs this year like Andrew Scheer's farm boy who just saw a ghost," said costume expert Nadia Clement. "But every detail of Pierre's from the hair to the glasses to the fact that you get annoyed every time an episode focuses on him was just perfect."
"What really sold me was that he nailed that grating, 'I'm a nerd but I'm not smart' voice. Who knew Pierre was such an impressionist!"
The Halloween Costume Contest is a time honoured Parliamentary tradition dating back years. Previous winners included Stephen Harper dressing up as his one of his favourite movies and/or tv shows Breaking Bad, Erin O'Toole for his Borat in a green speedo and Paul Martin as The Joker.
"Oh my god that was perfect. Do the sprinkler bit. Do the sprinkler bit!" yelled Michelle Rempel Garner after Pierre finished his speech about the carbon tax.
Unfortunately the levity came to an end when one MP jokingly sold Poilievre his soul for $5, and Pierre accepted a little too quickly, then refused to give it back even after the man started to feel quite ill.
PM Justin Trudeau did not participate in this year's contest as he is still subject to a lifetime ban for obvious reasons.