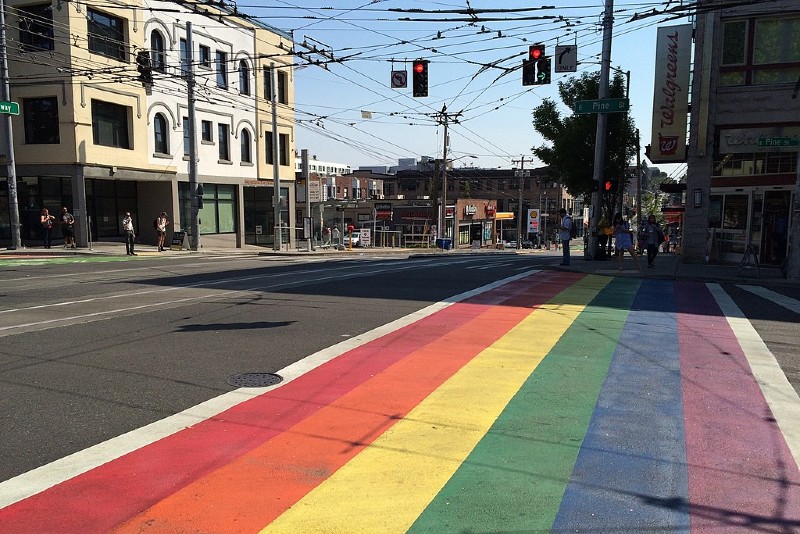 JUBILEE, ONT. — After years of only being able to walk on the north side of Main Street, noted homosexual Robert Huxley is at long last able to see what the other side of the road is like. 
"I was nervous at first to see the town from such a radically different perspective. So far it looks mostly the same but with less shade and now all the shops are on my right!" Huxley describes.
Huxley has been petitioning the Jubilee town council for the past four years for a rainbow crosswalk after hearing neighbouring towns had painted their own. 
While rainbow crosswalks are often seen as a symbol of solidarity with the 2SLGBTQIA+ community, for residents like Huxley they mean so much more than that. Notably no longer being trapped behind a monochrome crosswalk, looking on at a life they can't have. 
"Finally I can experience everything Jubilee has to offer… for instance there's Dairy Queen on this side of the street too!" 
"I'm also thrilled to be able to see my dentist again, his office is on the South side of town," Huxley continued. "I haven't been since I came out and my molars are killing me."
"We're so glad to be able to signal to others how inclusive and open-minded we are in Jubilee. We're very good people," said mayor Stacy Hughes at a photo event for the new crosswalk. "We've even approved new Pride-themed sewer grates! Yasss queen!" The act of solidarity comes after the local council shut down a 2SLGBTQIA+ youth drop-in program last month.
The new attraction is expected to bolster the town's queer tourism trade, which suffered heavily in 2018 after several gay tourists were inadvertently trapped after parking their cars on the wrong side of the street and had to be airlifted to safety. 
At press time, the new crosswalk had already been vandalised with white paint and tire tracks.