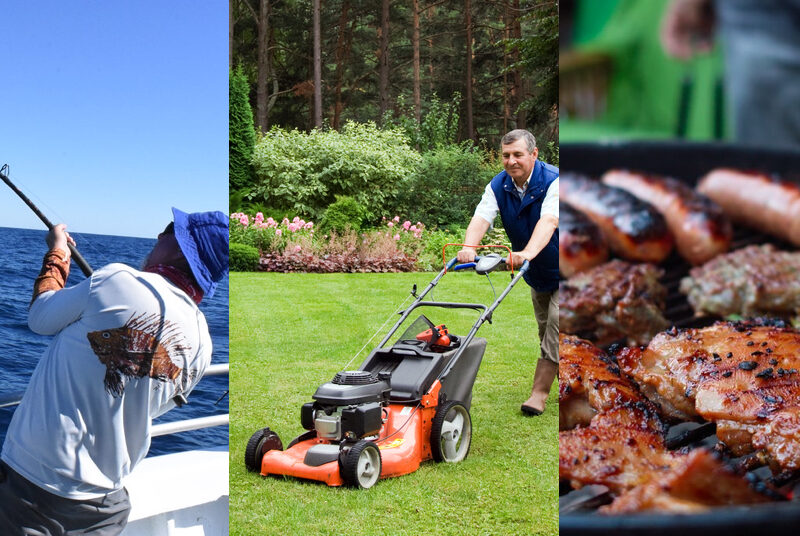 There's no shortage of Father's Day gifts out there that say "you're the best!", "#1 Dad!", and "[golf pun]"! But where are you supposed to find a gift that says "please feel your feelings"? 
Look no further. We've put together this helpful list of Father's Day gift ideas that will encourage even the most emotionally constipated Dads to get a therapist — without the stress of suggesting it openly to the same guy who says putting milk in coffee is for "sissies".
Here's five Father's Day gifts that scream, "Go to therapy, for the love of God!":
A lawn mower designed to miss a spot every time.
Picture this: your Dad looking out at his freshly-cut lawn, shocked at the uneven clumps of grass he left behind. This special mower is the kind of gift that will make him think, "Huh! I guess nobody's perfect — not even me! Maybe I should ponder that with the aid of a licensed professional?" 
A fishing trip with his own dad. 
Because nothing will get him in the therapist's chair quicker than 7 hours trapped on a tiny boat with the guy who invented 'giving you something to cry about'. In no time, this wholesome, nostalgic gift will have your Dad saying, "Oh God, is THAT what I sound like?"
A personalized 'Tend to the cook's inner child!' BBQ apron. 
It's likely Dad has never heard of the concept of an inner child, and will probably dismiss it as something you learned "at that goddamn university". But when people start talking to him in soothing tones while he mans the grill at the next cookout, he'll be accidentally posting "therapists near me" on Facebook in no time.
The Sopranos on DVD, but only the episodes where Tony goes to therapy.
"If men on television do it, then it's gotta be OK!" your Dad will think. Fair warning: this gift may convince him he needs to put on a stereotypical New York Italian accent in order to voice his inner feelings. Be glad that he's only doing a white accent this time, and move on.
A new toolbelt, but instead of screwdrivers it's just full of mental health worksheets.
On your Dad's journey towards warming up to therapy, the only tools he'll need are the ones that encourage boundary setting and positive self-talk. If this gift frustrates him at first, he'll LOVE the Anger Iceberg worksheet tucked where the tape measure should be.