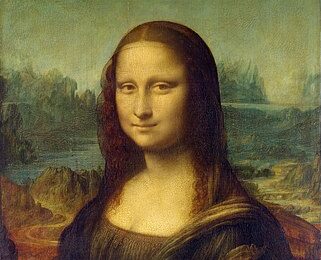 PARIS – Visitors to the Louvre today reacted with shock as a one-man climate protest took the form of a cake being thrown at star attraction Mona Lisa, whose own reaction to the ballistic baked good was strangely subdued and perhaps even amused, despite the incredibly serious subject matter.
Known to locals as Mona Lisa or Joconde, the enigmatic woman at whom the cake was thrown has refused to give her real name or to explain why she has responded to this protest with nothing more than a cryptic smirk.
"I hear she's worth almost a billion dollars, so it's not surprising that she doesn't care about the environment. Or maybe she does, it's really hard to tell," said Polly Anderson, an American tourist who witnessed the cake throwing. "And yeah, having a cake thrown at you would be upsetting, but it didn't even hit her, she was behind a glass partition that separates her from the crowds. Typical wealthy snob."
While some have applauded the eco-activist for finding a dramatic yet harmless way to bring attention to the climate crisis, others believe there's no excuse for implementing projectile gateau against panes of glass, not even to call attention to the ongoing destruction of the planet.
"What did Mona Lisa ever do to anyone?" asked art student Francois Durand. "Sure, she sits there, day in, day out, looking at you… perhaps judging you… but then you ask, is she judging you? Does she know that you think she might be judging you? Does she think she's better than you because you can't figure her out? WHAT DOES SHE WANT? DOES SHE WANT MORE CAKE? LESS CAKE? DEAR GOD, WHAT IS SHE THINKING?"
Despite the fact that the identity of the woman known as Mona Lisa is shrouded in mystery, what is known is that over the course of her existence the amount of carbon in the atmosphere has increased from 315 parts per million to over 400 ppm, the oceans have become acidic and risen 15-25 cm, and at least 900 species have gone extinct – yet none of this has been dire enough to wipe that smile off her face.
Whistler's Mother could not be reached for comment about the cake attack, but Saturn briefly stopped devouring his son for long enough to ask if the cake in question contained any of his offspring.