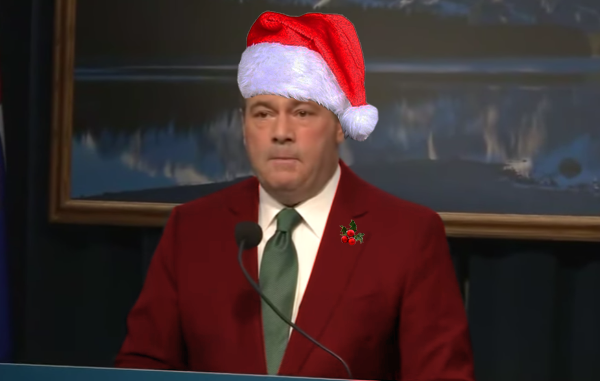 EDMONTON – As Alberta heads into what will assuredly be the 5th wave of the Pandemic, Premier Jason Kenney announced Wednesday that he would be relaxing indoor gathering restrictions ahead of the holiday season. Arguing that it was against the 'spirit of the season' to exclude the non-immunized from activities, something "he learned from a certain red-nosed reindeer."
Dressed in a Santa costume for the occasion, he explained his rationale for the sudden policy change.
"Unvaccinated Albertans have had a rough year between making up over 75% of Covid hospitalizations, being put on unpaid leave from their jobs, and dying. But just like in every Christmas movie ever made, when things are at their worst you just need to hope even harder for a Christmas miracle! "
Hoping to boost the festive feeling, Kenney urged all non-vaccinated Albertans to partake in all their favorite holiday traditions including singing Christmas carols, kissing under mistletoe, and slurping hot eggnog out of the open mouths of loved ones.
The Premier also stressed the importance of being with family at this time of year. "Albertans shouldn't feel like they have to exclude their one unvaccinated aunt from Christmas dinner just because of a little highly communicable disease. She should be there along with the rest of her family, loudly recounting a QAnon video that proves Trudeau is a Chinese sleeper agent."
Some have criticized the change as 'mixed-messaging' which panders directly to the UCP voter base, a percentage of which is staunchly anti-vaccination. Additionally, several doctors have warned that loosening restrictions could allow new highly infectious Omicron variant to overwhelm Alberta's already overtaxed healthcare system.   
Attempting to ease concerns Kenney had a measured response. "Why do you hate Christmas?! Are you some kind of Grinch or something? Grinch! Grinch! Grinch!" He then began ringing a set of sleigh bells to drown out any further comments.
"Anyways, this is going to be the best Christmas ever!", concluded Kenney with a twinkle of magic in his eye. 
At press time, dozens of unvaccinated patients were nestled snug in their hospital beds, while visions of sugar-plums danced in their heads.