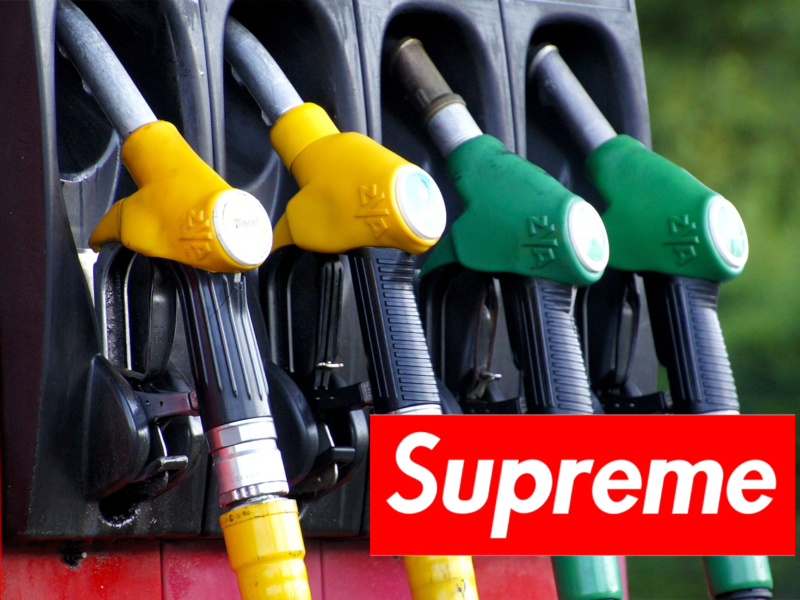 TORONTO – Hypebeasts around the world found themselves disappointed after the new revelation that Supreme gas is not actually a petroleum collab as they had thought all this time. It was commonly accepted in the streetwear community that the high octane gas was part of a partnership between the Supreme brand and the oil industry.
"I remember first hearing about Supreme gas," said one hypebeast Scott Winslow. "My friend told me the gas is more expensive for a zero increase in quality so naturally assumed it was part of the Supreme brand. I've spent hundreds of hours learning about oil futures for no reason. "
The revelation was the result of an in-depth google search by reporters at Highsnobiety.com. "At first, we didn't believe it, but after we kept digging it started to make more sense. Supreme gas is higher octane than regular gas. There was no way Supreme the company would put that much effort on their collabs. They would've just stamped their logo on normal gas and called it a day."
Online resellers suffered huge drops in prices when the news was announced. Stockx saw the price of a bottle of Supreme gas drop from $3500 to only $600, the same price as Stockx shipping. "At first we weren't sure what caused the drop in prices," explained Stockx CEO Scott Cutler. "Initially there were several conspiracy theories going around that this was the result of price fixing by Big Shoe."
"It's ridiculous and we will be pressing charges against whoever uses our name," said Supreme founder James Jebbia. "The Supreme brand is known around the world for our overpriced, shit-quality, lazily produced, logo stolen from Barbara Kruger line of products that 15-year-old kids can buy to get validation. Supreme gas can't just come and take that name. This is a bigger violation than our dispute with the Supreme court." 
As of press time, Virgil Abloh released a statement that his petroleum collab was still expected release on time despite the scandal with Supreme. Pictures of the collab reveal Abloh is making the unexpected and brave choice to put quote marks on his oil.