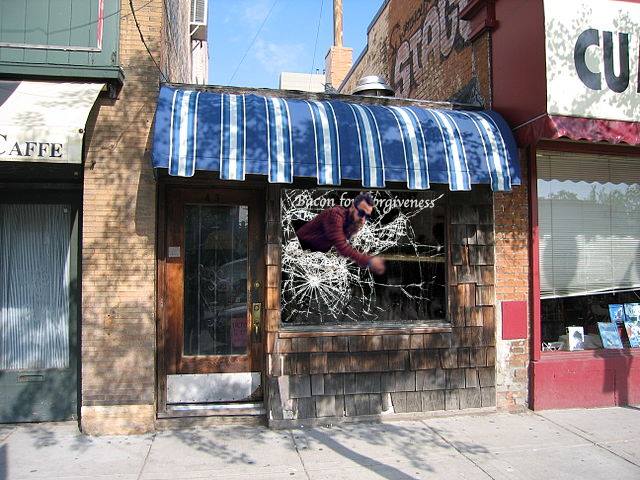 TORONTO – Police are trying to maintain order at local restaurant "Bacon for Forgiveness" after a frequent patron was thrown through a glass window in what is still an ongoing drunken, no-holds-barred brunch brawl.
"We should have known there was going to be trouble when those bikers rolled up," said server Devin Masters, hiding underneath one of the diner's many quirky, mismatched chairs. "Fixie riders don't fuck around."
Witnesses say the newcomers immediately started taking advantage of Bacon for Forgiveness' famous $9.00 bottomless mimosa deal, pounding two or three of the mildly alcoholic drinks before their Belgian waffles came. Staff reportedly tried to hustle the rowdy group out the door, but the combination of champagne, syrup, and a Father John Misty song on the restaurant's playlist resulted in the ongoing melee.
"Bring it on, you cowards," shouted owner Julian "Jules" Chambers, waving a broken small-batch vodka bottle at three circling men wearing plaid and suspenders. "I'll cut you up so bad your mom won't even recognize you."
"Or your two dads. Or whoever. We're inclusive of all your punkass family situations!"
So far, 19 customers have been removed from the melee and taken to hospital. Most of the injuries are minor, but two customers are being treated for hollandaise poisoning while another is in critical condition after taking an avocado toast to the eye.
"Ugh, this place is so great," said frequent customer Molly Sanders, using her spare romper to choke out a freelance graphic designer. "Cute, close to public transit, and I drank enough Caesars that I can't feel any pain."
At press time, the brawl had moved to a nearby farmers market out of respect for Bacon For Forgiveness' 3pm closing time.