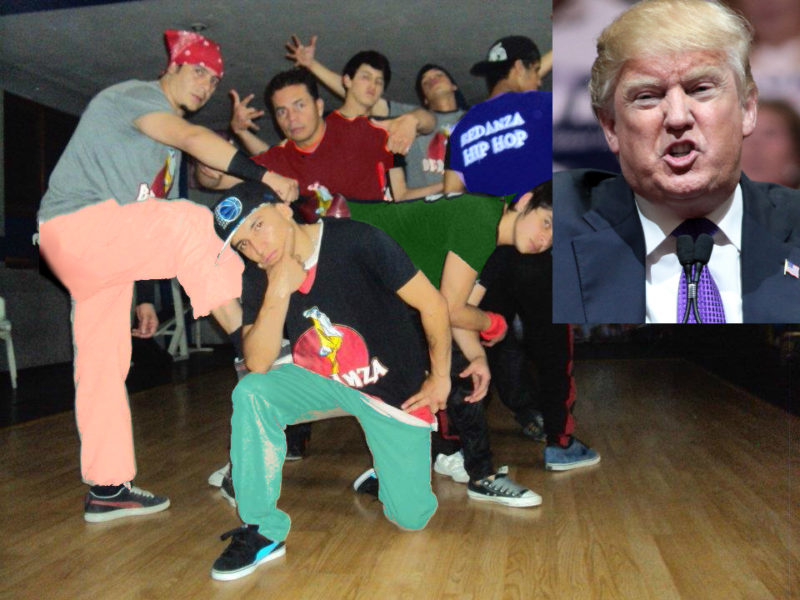 QUEENS, NEW YORK – The Donald Trump presidential campaign suffered a setback this week after the nominee lost the deed to a recreation center in a climactic pop-and-lock showdown with local underdogs, the Boogie Beatz Crew.
"Our plan was to save the rec center from this greedy land developer, using the prize money from the 2016 TriState B-Boy Championship," said Boogie Beatz leader Orlando "Outer Space" Diaz. "But then when we found out the developer was Donald Trump, we were like 'Really? The 2016 Republican nominee for president?'"
"It just seemed like kind of a weird use of his time, is all I'm saying," added a perplexed Diaz.
Trump's immediate and singular focus on obtaining a rec center left many campaign insiders scratching their heads. One staffer revealed that, during a debate prep session, campaign workers failed to restrain Trump before he could tweet: "Many people are saying Boogie Beatz has illegal immigrants. Should they be disqualified, just in case? Sad!"
Observers even report that the former host of NBC's The Apprentice soon went to great lengths to fix the B-Boy Championship. According to local breakdance enthusiast and radio DJ Rhonda "Rey Rey" Chambers, "Trump actually hired a crew from the snooty breakdance academy, just to try and win the prize money."
It was at this time that Trump began bringing up the Boogie Beatz rivalry, boasting in rally speeches and interviews about how his own dancers "were gonna crush those highly overrated Boogie Beatz losers." On one Fox and Friends segment, Trump spent an entire hour gloating to a visibly confused Steve Doocy about his intentions to "tear down that low energy rec center and build a beautiful gold Trump hotel."
In the end, the Boogie Beatz Crew's fly moves clinched the prize money, saving their beloved rec center and unleashing a torrent of anger from Trump. The self-reported 'billionaire' refused to accept the judges' decision, describing the entire B-Boy Championship as "rigged" before declaring, "I'm actually the best break dancer, everyone says so". This led to Trump attempting a basic cross step and immediately splitting the seat of his pants in front of the crowd.
"Everyone laughed at him, even his wife, and I almost felt bad," recalled Outer Space Diaz. "But then he started throwing around a bunch of racial slurs – like real old-school slurs – and threatened to sue everyone in the room." As of this writing, no lawsuits have been filed.
At press time, Donald Trump was having his latest insurance scam ruined by a plucky St. Bernard dog.