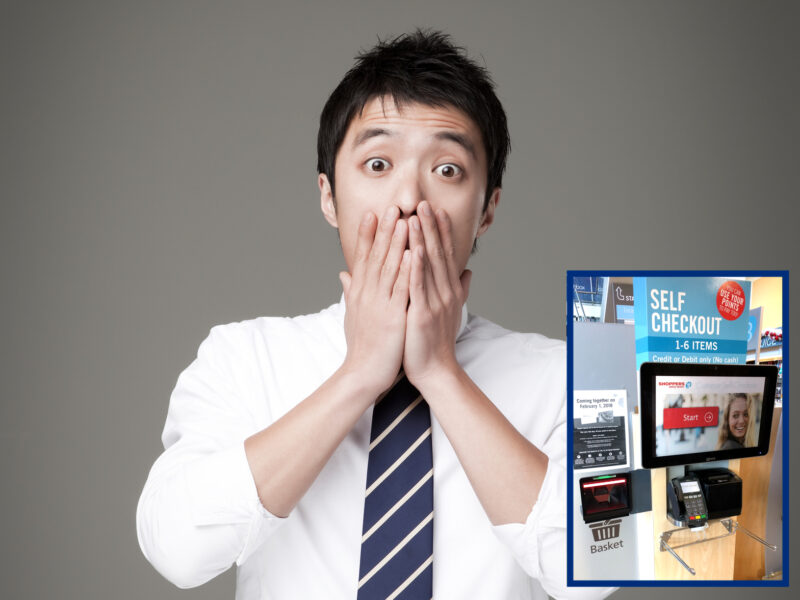 BRAMPTON, ON – Observers at a local Shoppers Drug Mart have reported that a customer has entered the third day of navigating the self-checkout kiosk, tapping through a seemingly endless succession of increasingly less relevant prompts.
"I thought I'd just pop in to quickly grab some toilet paper," says accounts clerk Daniel Chang. "The checkout line was pretty backed-up so I went over to the self-checkout and have been tapping through prompts on the screen ever since."
"At first it brought me to a screen asking if I had a PC Optimum Card which I guess is fair enough," explains Chang. "But then it asked for my postal code, then asked if I wanted to donate to charity, then it asked if I wanted an emailed receipt, then it asked for my email address even though I clicked no, then it asked if I wanted to donate $1, $2, or $5 to charity, then it asked for my phone number, then it asked the name of my first pet, then it asked for the birthday of that pet. It's just been going on like this."
Chang insists he would've just left the store but he didn't want to be accused of stealing. However, after more than 506 prompts, he still hasn't been brought to the screen to pay.
"I've tried pressing 'back' and 'skip' but the buttons don't even work. Truly there is no escape," adds Chang.
According to Chang, additional prompts over the last three days have included screens asking him for the name of his elementary school, his favourite condiment, his blood type, his birth weight, and his favourite grit of sandpaper, as well as screen asking if he wanted to make a $1, $2, or $5 dollar donation directly to Galen Weston Jr.
"At one point a few dozen screens in I thought there must be some mistake and pressed the help button, but that just resulted in the light turning yellow and the kiosk freezing and telling me to wait for an associate," explains Chang, who says after waiting 10 minutes for someone to arrive, was forced to move to a different self-checkout kiosk and start over.
"I guess this is why Shoppers Drug Marts are all 24 hours now," says observer Mary McNeil, who stood behind Chang in the self-checkout line, occasionally leaning over his shoulder to help him navigate the unremitting onslaught of prompts.
"He's making great time," says Shoppers Drug Mart Assistant Manager and sole physical employee Kimberly Evans. "For most customers it can take an average of 4, sometimes 5 days to make it to the payment screen, but he's tapping through these prompts like a Formula 1 Driver doing reflex training before a race."
"If he makes it in under 3 days, he might even be prompted to take a survey on how we can help improve the customer experience," added Evans while cashing out the remaining 26 customers at the only manned register.
"Customers are our highest priority," said Jennifer Carey, a spokesperson for Loblaw Companies, which owns Shoppers Drug Mart. "That's why we want to know everything about them, and think that when they're in a rush at the self-checkout is the perfect opportunity to gather that information."
According to Carey, customers who make it to the end of the prompts will be rewarded with a special post-credit card teaser of the next Loblaw corporate acquisition. "I hear it's going to be a big one, maybe Sobeys" teases Carey.