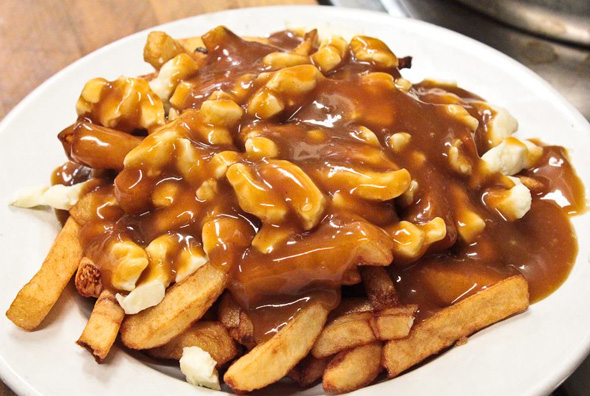 MONTREAL – Montreal Mayor Valerie Plante announced a new measure where tourists will no longer be allowed to leave the city limits unless they have eaten one of the city's signature dishes, a poutine. The poutine, a food that appears at first glance to be a dietary nightmare, consists of cheese curds and fries, slathered in hot beef-based gravy. This unholy trio of some fevered chef's imagination remains beloved by Quebec residents and has become an international culinary sensation.
"Poutine is one of Montreal's greatest assets," said Plante. "We've often said you just can't visit Montreal without having a poutine. And now that it's a law, that's more true than ever."
Poutine Officers will be stationed at airports, train stations and bus depots, as well as all bridges and tunnels coming on and off the island where travelers will have to blow into a gravylyzer to ensure they have consumed at least one poutine in the last 24 hours. Vegetarians or picky eaters have the option to smoke an entire pack of cigarettes as an alternative.
"Well, it's my first time in Montreal and I really love it so far," said Cody Bradford, visiting from Sudbury. "Everyone was telling me to get a poutine while in town and I was really looking forward to having one. But now that I have to eat one, it's kind of taken the shine off of it. I kinda don't want one now?"
An SQ officer appeared shortly thereafter and escorted Cody to restaurant La Reine De La Poutine where Cody was forced to wait in line for 40 minutes for a $25 poutine with chorizo and guacamole.
Mayor Plante added, "We hope everyone coming to our fair city can take the time to enjoy a poutine. And they will. Or else."