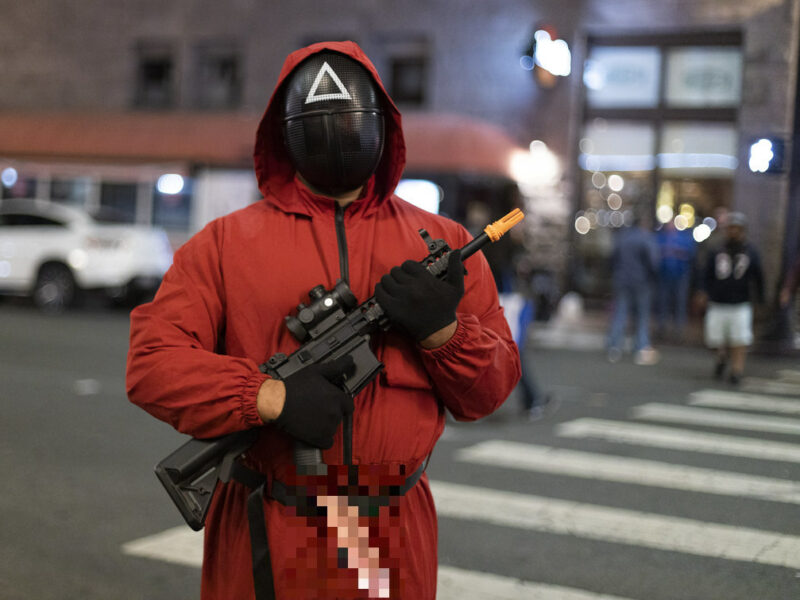 HAMILTON – Hi again, loyal readers! I'm here to give you the inside scoop on everything film and I'm thrilled to tell you all that the newly released porn parody of hit Netflix series Squid Game unsurprisingly goes off the rails early and gets about as gross as you'd expect.
The movie, aptly titled Squirt Game, begins as a straightforward send-up of the film on which it is based and becomes crazy icky by mid-way through the second fuck scene. The plot initially involves a down on his luck Korean man tricked into participating in a contest with 400 other indebted miscreants, requiring them to play variants of school-era games like spin the bottle or seven minutes in heaven but, you know, with a bunch of fucking. Though the film ostensibly suggests that the protagonist will have to be the last man standing/kneeling/squatting, it abandons all veneer of homage within 30 minutes and just goes all-in on the squid sex.
It was at about this time, at 3:47 a.m. on a Thursday night while watching this film in my dimly lit basement, following the seventh consecutive rewind and fast forward to ensure that all clever sexual wordplay was captured for this review that the main character of the film turned and addressed me directly:
"What's become of you, Tyrus?" said the protagonist, appropriately named #69, "You're in your late-40's and  reviewing second-rate pornography for a fourth-rate publication. For God's sake, you covered Afghanistan. You were there in Kabul when it all happened."
"Your mother thinks you write for the New Yorker," he reminded me with a twinge of contempt.
Weird? Yes! And it's still a little unclear as to whether the sudden confrontation of my deepest existential dread seething with ever-present self-doubts lying just beneath the surface of my carefully cultivated journalist persona was authentic or merely the result of eight consecutive nights of sleep deprivation coupled with truly abhorrent story assignments. But the effect remained the same! Indeed, after being forced to seriously comment on a film in which 12 men in their 50's just go to?
"What about law school?" #69 continued, now sitting firmly on the couch next to me placing a damp but comforting hand on my shoulder, "or even do something for the CBC? I mean here you are directly breaking the fourth wall regarding Netflix show popular over a month ago. It's not too late to reinvent your career. Change this trajectory."
Oh! And you better believe there was tentacle shit in this thing.