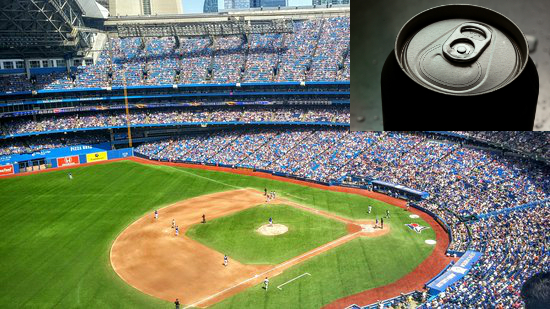 BUFFALO – In an attempt to welcome the Toronto Blue Jays into their 2020 home, Buffalo's Sahlen Field has added a number of details to make the Blue Jays feel like they are playing at the Rogers Centre: Blue paint and Jays logos everywhere, new blue carpeting, and a robotic fan hucking full cans of beer at the players from the top row of the stands.
Because the Blue Jays did not get approval from the Canadian government to play their home games at the Rogers Centre in Toronto, the team will be playing 29 home games this year at the home of their AAA affiliate, the Buffalo Bisons. While the players were initially upset by the change to a facility that was not up to major league standards, many are impressed by the changes made to Buffalo's stadium.
"It won't be the same not playing in my favourite place in the world, the concrete mausoleum that is the Rogers Centre," said Blue Jays shortstop Bo Bichette. "But seeing the Jays logos everywhere, and being scared of getting clocked in the head by a spinning can of Budweiser, is going to help me settle in just fine."
The robot bears the likeness of Ken Pagan, a fan famous for throwing a can of beer at Baltimore outfielder Hyun Soo Kim during the 2016 AL Wild Card game, and is basically a catapult attached to a cardboard cutout. The Jays have also piped in the sound of a middle-aged man loudly telling everyone that all the players on both teams are on steroids, and the sound of a section of schoolchildren cheering for every fly ball thinking it is a home run.
Some of the Blue Jays, however, are still not satisfied with the changes. "What are these plants growing on the field? Grass? Psh." said outfielder Randal Grichuk. "In the majors, we play on green carpet that looks like grass, thank you very much. Also, you are supposed to have a roof that gets stuck halfway when you try and open it during a game."
Finally, Blue Jays management is asking everyone who usually brags 'I still call it the Skydome' to start saying to the friends and family 'I still call it Coca-Cola Field'.