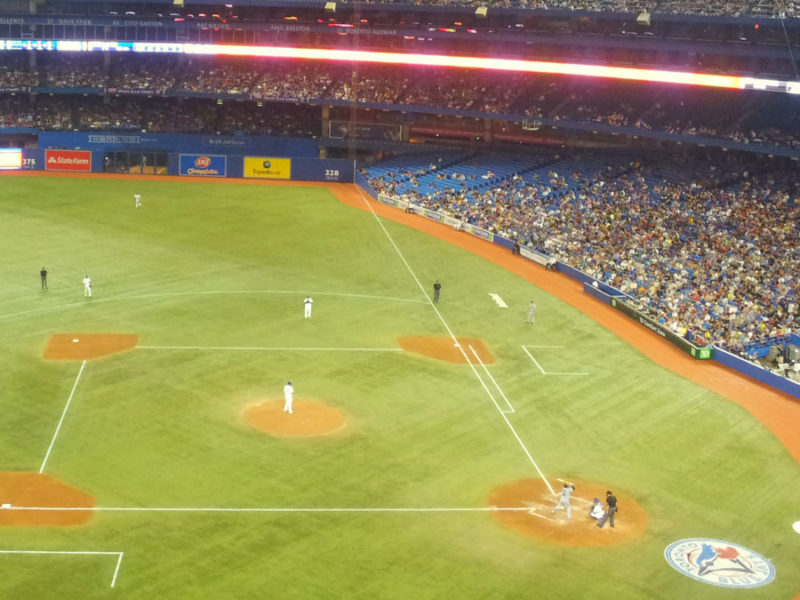 TORONTO – After arriving at the Rogers Centre for yet another grinder of a baseball game, sources report that literally no one attending the Blue Jays game today-  including players, staff, and fans – actually wants to be there.
"I'm here because my boss dragged me along," said one man who wished to remain anonymous out of fear of angering his boss. We then confirmed with the source's boss that the company held season tickets because he assumed clients would love to go to games, adding "I can tell the client is hating every minute of this brutal, awful experience." 
"Everyone is bored to tears and there's nothing we can do about it," added the source. 
Players, MLB officials, journalists and venue staff all stated separately that if they weren't getting paid to be there, they'd be doing something better with their time, like chores at home, watching paint dry, or tearing out their eyelashes one by one just to feel something. 
"I hate this," said Blue Jays first baseman Justin Smoak, adding that baseball is bad sport and he should have stuck with water polo in high school. "I have wasted my life." 
Fans similarly stated that if not for the expectations of someone else, they would – at best – rather watch the Jays lose at home. 
"My Dad thinks he's doing something special by bringing me to the ballpark," said 7-year-old Josh, adding that everything is overpriced and honestly you can't see the action very well even with stupidly expensive seats. "I feel like saying, what's the point of this? Really? Why this terrible sport?"
When asked for comment, Josh's father stated that he simply brought his son out of societal expectation, and that maybe the horrible baseball games his father made him sit through wouldn't repeat themselves. He admits now that he was one hundred percent wrong.
At press time, everyone was busy hoping the Jays would just forfeit the match just to get it over with while looking at their phones to see when the NHL and NBA seasons start again.