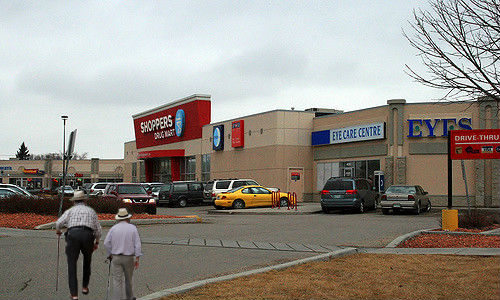 Brampton, ON — Since the Ontario Liberals' announced a plan to make prescription drugs free for youth under 25, retirees have been spotted swarming Shoppers Drug Mart parking lots looking for young people to fill their prescriptions.
Shoppers Drug Mart owner Nasir Karim says the gangs of over-age prescription drug users have been causing mischief outside his store.
"They're always out there revving their scooters, and playing cribbage in the alley" he explained. "They bother my teenage customers, telling them they'll share their blood-thinners or arthritis pills if they go in and get it for them."
At the front cash, there is a sign that reads "Stop and think: Giving free prescription drugs to anyone over 25 is illegal."
Local senior Dale Arlen says says that this way is better than the alternative. "At least we're getting it from a safe place and not just stealing it out of our grandkids medicine cabinets," he explained.
Karim said most afternoons he's forced to chase them off the premises with a large broom. The store owner has even resorted to calling their kids to come pick them up, but can never get a hold of anyone.
Karim says ultimately, he finds the whole situation sad. "I wish they would just leave the prescription drugs to the people who need them the most: the teens."
With files from Diana Frances, Emma Overton, David Horrowitz and Alex Huntley.